The Flock
(2008)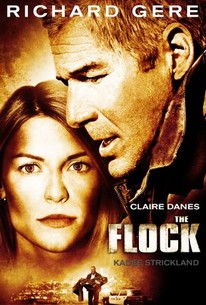 AUDIENCE SCORE
Critic Consensus: No consensus yet.
Movie Info
A hypervigilant federal agent, while training his young female replacement, must track down a missing girl who he is convinced is connected to a paroled sex offender he is investigating.
Critic Reviews for The Flock
All Critics (2) | Fresh (1) | Rotten (1)
Hong Kong crime specialist Andy Lau of Infernal Affairs fame, makes his English language directing debut with this solid thriller set in New Mexico
While not exactly a gift-wrapped present, it's safe to say that Flock will certainly appeal to television cop drama junkies and those who love to see Claire Danes cry, which would now include every film she's ever made.
Audience Reviews for The Flock
I actually really liked this (as much as you can like a movie with such dark subject matter). I am surprised it has such a low rating. Gritty filming and a good cast (even Richard Gere, who I tend not to like is okay here, though obviously this could have been better with someone else in the role). Avril Lavigne is also impressive in her brief appearance as a quite troubled young woman. Claire Danes is excellent, as she usually is and I didn't see the ending coming at all. I am even more surprised to see this was straight to DVD. I am sure I have paid money at the cinema to see much worse movies. Recommended!
Nicki Marie
Super Reviewer
Richard Gere, Claire Danes, Dwayne L. Barnes This film is about a hyper-vigilant employee of the department of public safety who, while training his young female replacement, has to track down a missing girl who he is convinced is connected to a paroled sex offender he is investigating. ~~~~~~~~~~~~~~~~~~~~~~~~~~~~~~~~~~~~~~~~~~~~~~~~~~~~~~~~~~~~~~ Wow. I put off watching this movie for the simple fact of what its about. But I love Richard Gere and Claire Danes so I had to watch it sometime. It was really good. Richard Gere's character is insane. But not in a bad way. He is totally obsessed with his job, and is really good at too. Claire Danes comes on to replace him but ends up being his partner in crime. I read some of the reviews before watching this movie, and some people were wanting to watch this just for Avril Lavigne being in it. So I wouldn't watch it just for her, considering she's in the entire movie for like a few minutes and I don't even think she said anything, just giggled. So, no real acting from her. Anyways, the movie is really good, and knowing that the subject this movie is about is hard for some people to watch (including me), I will say it is one that shouldn't be looked past just for that reason. It's heartbreaking and at times hard to hear what some of these pervs did, but I thought the story was well played out, and the ending was great.
♥˩ƳИИ ƜѲѲƉƧ♥
Super Reviewer
For a straight to DVD film this is actually a pretty good thriller. Gere and Claire Danes give good performances about a tough subject matter. They monitor sex offenders in the community, when a teenage girl is kidnapped in the area their suspicions are raised. A bit slow at the start but the second half of the film is good cat and mouse stuff. Don't expect much of Avril Lavigne in this though, a one scene cameo is all you get from her in this.