The Fog of War: Eleven Lessons from the Life of Robert S. McNamara
(2003)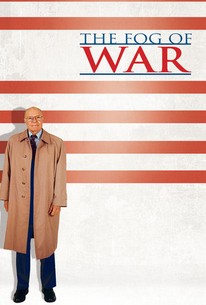 TOMATOMETER
AUDIENCE SCORE
Critic Consensus: The Fog of War draws on decades of bitter experience to offer a piercing perspective on the Cold War from one of its major architects.
The Fog of War: Eleven Lessons from the Life of Robert S. McNamara Photos
Movie Info
Former Secretary of Defense Robert S. McNamara is the sole focus of documentarian Errol Morris' The Fog of War, a film that not only analyzes McNamara's controversial decisions during the first half of the Vietnam War, but also his childhood upbringing, his education at Berkeley and Harvard, his involvement in World War II, and his later years as president of the World Bank. Culling footage from almost 20 hours of interviews with the Secretary, Morris details key moments from McNamara's career, including the 1945 bombing of Tokyo, the Cuban Missile Crisis, and President Kennedy's suggestions to the Secretary that the U.S. remove itself from Vietnam. Throughout the film, the 85-year-old McNamara expounds his philosophies on international conflict, and shows regret and pride in equal measure for, respectively, his mistakes and accomplishments.
Critic Reviews for The Fog of War: Eleven Lessons from the Life of Robert S. McNamara
Audience Reviews for The Fog of War: Eleven Lessons from the Life of Robert S. McNamara
½
A mesmerizing, slightly offbeat documentary from the great Errol Morris ("The Thin Blue Line") concerning former Secretary of Defense Robert S. McNamara and his experiences in both WWII and Vietnam, and looking back on his decisions and how to pertain to the days we live in now. McNamara appears to be a very likable, flawed individual (like we all are) who seems to be historically misunderstood given his reputation that he screwed up the Vietnam War quite badly. Instead we get an honest, genuine look at a man who gives a fair look at himself and his decisions, admits to his mistakes, but remains proud of his many accomplishments. Definitely a more humanizing look at a politician, in a day and age where people love to eat these people for lunch. One of the better documentaries I can recall, and anyone from the Kennedy-Johnson era should give this a look.
Dan Schultz
Super Reviewer
Robert McNamara explains his life during the two World Wars and the Vietnam War. For those of us who are students of history but didn't live during the times of the Vietnam War and WWII, this film doesn't have the resonance it might otherwise have. What I see is McNamara the apologist and McNamara the regretful soldier, personalities that he freely oscillates between almost at will. He wags his finger at the camera so many times that I felt like he was giving me, a small boy, a lecture on how to live. The film becomes a compilation of McNamara saying, "I did my best, but I fucked up, but damn it, I did my best!" Overall, I think this film is a good introduction to people who know little about the wars, but it ultimately devolves into a talking head documentary.
Jim Hunter
Super Reviewer
Not a whole lot to say other than see it!
Ken Stachnik
Super Reviewer
The Fog of War: Eleven Lessons from the Life of Robert S. McNamara Quotes
There are no approved quotes yet for this movie.