The Foot Fist Way
(2006)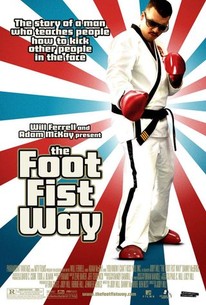 Movie Info
Self-control, perseverance, integrity, indomitable spirit--that's what it's supposed to be all about at the Concord Tae Kwon Do Studio, where boys are turned into black-belts and suburbanites are chiseled into great warriors, all under the watchful tutelage of proud sensei Fred Simmons. That is, until Fred discovers his wife has been unfaithful and instantly descends into a blubbering mess. OK, so maybe Fred is far more blowhard than kick-ass hero. But, when he sets out on a last-ditch quest to meet his kung-fu idol--the eight-time undefeated champ and star of the "Seven Rings of Pain" trilogy, Chuck "The Truck" Wallace--Fred winds up on a wild, comic journey that will take him from egomaniacal bluster all to the way to becoming the stand-up man of his delusional dreams.
News & Interviews for The Foot Fist Way
Critic Reviews for The Foot Fist Way
Audience Reviews for The Foot Fist Way
The filmmaking brings out a lot of nuances, about our fantasies about personal victory and the fantasizing in American fight movies. Some of the humor might not be as upfront as in most of the higher-budget vehicles. Collette Wolfe's disappearance from the story is beguiling. She's attractive and sympathetic and open-minded, and you realize that one thing movies tend to do for an audience is to keep charming people like this around to light the place up, when in real life the hijinks would feel as homey as your best friend's 10-day manic episode.
Adam Mahler
Super Reviewer
An ammusing film in a pathetic/painful sort of way. And impressive when you take into consideration that it was made for about $79,000 dollars. Though it's never quite as funny or clever as it THINKS it is.
Low budget comedy with a good intro performance by McBride, extremely one-dimensional but original delivery. Lot of filler and obviously a lot of first time actors, but it wasn't bad for a movie with a $79,000 budget.
Lenny Muggsy
Super Reviewer
The Foot Fist Way Quotes
There are no approved quotes yet for this movie.