The Foreigner
(2017)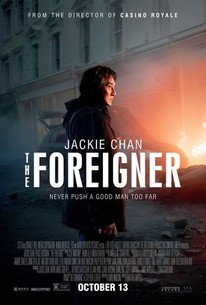 TOMATOMETER
AUDIENCE SCORE
Critic Consensus: The Foreigner adheres strictly to action thriller formula, but benefits from committed -- and out of character -- performances from its talented veteran stars.
Movie Info
The Foreigner, starring Jackie Chan and Pierce Brosnan, is a timely action thriller from the director of Casino Royale. The film tells the story of humble London businessman Quan (Chan), whose long-buried past erupts in a revenge-fueled vendetta when the only person left for him to love -- his teenage daughter -- is taken from him in a senseless act of politically-motivated terrorism. In his relentless search for the identity of the terrorists, Quan is forced into a cat-and-mouse conflict with a British government official (Brosnan), whose own past may hold clues to the identities of the elusive killers.
News & Interviews for The Foreigner
Critic Reviews for The Foreigner
Audience Reviews for The Foreigner
½
I was actually pretty close to loving this movie, it has a lot of the ingredients of something I would love. This type of story of unassuming man pushed too far, goes to lengths of brutality out of a sense of honor but only wants to return to his humble life, and all done with a lens of extreme grimness. It reminded me a lot A Walk Among The Tombstones, which was one of my favorite movies of that year. But Walk had a very straightforward plot you could get behind, The Foreigner unfortunately doesn't and that's where it falters. There's a lot of talk about terrorists and new IRA and past dealings and who's really the bad guy it becomes a distraction and it's all told very clumsily. We need to be rooting for Jackie Chan's character in a film like this, and for a while I was more just confused because I wasn't even clear that he was going after the right guy. That said, when the story does what it's supposed to, it works, and I loved it's nihilistic approach and conclusion. And the stuff with Jackie is all absolutely flawless. This is not a typical performance from him, he plays a broken man and even his fight sequences have an unexpected amount of grit to them. It's extremely out of character, but he goes full force into the performance and absolutely nails it. That performance and the grim tone elevate the movie enough over it's narrative stumbles. Another rewrite this could've been a favorite for me, so it's disappointing, but as is I still found a lot to like.
Michael Malan
Super Reviewer
I didn't know that Jackie Chan is the main actor. The film has almost everything that I'd prefer to avoid.
familiar stranger
Super Reviewer
½
Jackie Chan just keeps fuckin' bringing it doesn't he? The serious tone of The Foreigner fits him well, but the role he plays seems oddly shoehorned in. I understand that the movie is in actual fact based on a novel called The Chinaman, which I assume unfolds more or less as the film does. But the Troubles-themed Political Drama makes up most of the runtime in The Foreigner, and the Action/Revenge Thriller element seems almost like at some point in pre-production the crew went "Holy shit, did you know we can put Jackie Chan in this? Quickly! Write him a role!". Although I'm sure that it's not the case, that is how it feels, and while the Action/Revenge Thriller element is the best part of the movie, its failure to mesh with the piece at large does bring it all down a bit. Still a worthwhile watch if you're a fan of the Chan.
The Foreigner Quotes
There are no approved quotes yet for this movie.