The Forger
(2012)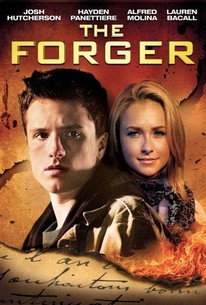 AUDIENCE SCORE
Critic Consensus: No consensus yet.
Movie Info
Troubled, homeless 15-year-old Joshua (Josh Hutcherson, 'The Hunger Games') lives from hand to mouth on the streets. He lands in Carmel by the Sea, a small town in California known for its local art community, where his prodigious art skill is discovered. As his talent flourishes, Joshua is lured into the underground world of high dollar art forgery. At the same time, he falls in love with Amber, played by Hayden Panettiere ('Heroes'). Amber is a privileged girl from the wealthiest part of town. As the two become closer, the temptations of his new, illegal world become too great a lure for Joshua to resist. In the cutthroat and high stakes game of art forgery, where no one is who they appear to be, Joshua must now attempt to survive, stay true to himself and win back the heart of the girl he loves.
Critic Reviews for The Forger
There are no critic reviews yet for The Forger. Keep checking Rotten Tomatoes for updates!
Audience Reviews for The Forger
I have a high interest in the subject of art forgery....always wondered what it would be like to have great skill used in the service of someone else's vision, but I honestly couldn't stick with this movie long enough to find out.
Bathsheba Monk
Super Reviewer
Absolutely gorgeous cinematography, great acting, and decent plot... however, the script is so problematic with so many bizarre moments that would never happen in real life... that I had to suspend my belief during many moments. When I watch films, I like to lose myself in the story and forget reality for two hours. Due to the lack of believability, I was reminded constantly like a smack in the face that this is just a fictional movie. There is a reason this was a straight to DVD release.
Dannielle Albert
Super Reviewer
Josh Hutcherson did a great job in The Hunger Game and I curious to see what he was doing. Unfortunately the experience feels like a bad Lifetime TV movie. The Forger is about a teenager wanders into Carmel, California, where he is soon introduced to the art-forgery community. The main problem with this movie is the lack of conflict for our main character. It doesn't matter that he's homeless, beat up his girlfriend cousin, or is being used everything is worked for him without lifting a finger. The plot lacks any real focus being all over the place never telling a good story. Hutcherson character over reacts to everything, like when he sees a teacher taking Panettiere to class and telling her to get to class results in him getting punched. The characters are poorly written and idiotic, Pantettiere brother seems to be cool with Hutcherson punching him twice and dating his sister despite only sharing one scene before they did. It poorly written, but it harmless and will satisfy anyone would doesn't want compelling characters and a good plot. The cast acting is bad and bland. Everybody stays to the script, it simply feels like everybody was in it just for the pay check. No one does a good job in the acting department, but they never get your nerves and are likable at least. The film has a nice scenery and artwork to show off, though they don't add the movie. This will probably appeal to teens more, as long as they don't expect much from the experience. The Forger has all the quality of a bad TV movie that'll likely appeal more to teens with low expectations. Your best chance is to simply watch something else.
Caesar Mendez
Super Reviewer
The Forger Quotes
There are no approved quotes yet for this movie.