The Forgiveness of Blood
(2012)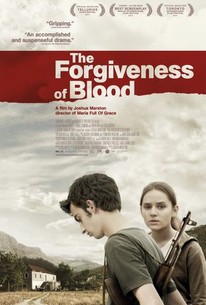 TOMATOMETER
AUDIENCE SCORE
Critic Consensus: Acutely observed with naturalistic performances, The Forgiveness of Blood reaffirms director Joshua Marston's gift for cultural commentary through intimate storytelling.
The Forgiveness of Blood Photos
Movie Info
The powerful and richly textured second feature from Joshua Marston focuses on an Albanian family caught up in a blood feud. Nik (Tristan Halilaj) is a carefree teenager in a small town with a crush on the school beauty and ambitions to start his own internet café. His world is suddenly up-ended when his father and uncle become entangled in a land dispute that leaves a fellow villager murdered. According to a centuries-old code of law, this entitles the dead man's family to take the life of a male from Nik's family as retribution. His uncle in jail and his father in hiding, Nik is the prime target and confined to the home while his younger sister Rudina (Sindi Laçej) is forced to leave school and take over their father's business. -- (C) IFC
Critic Reviews for The Forgiveness of Blood
Audience Reviews for The Forgiveness of Blood
In "The Forgiveness of Blood," Mark(Refet Abazi) has a running argument with Sokol(Veton Osmani) about taking a short cut over his land that used to belong to Mark's grandfather. One day, that erupts into bloodshed that leaves Sokol dead, Mark's brother Zef(Luan Jaha) in jail and Mark on the run. In order to avoid reprisals from Sokol's family, Mark's house goes into lockdown, making a special point to keep Mark's teenaged son Nik(Tristan Halilaj) home from school. That leaves Rudina(Sindi Lacej) to take care of the family business of delivering bread every day. "The Forgiveness of Blood" is not so much suspenseful, as it is filled with dread, proving that in a state of siege you don't need zombies or Daleks to pull it off. And in most scenarios like this, the movie would belong to Nik but surprisingly not in this case, as while he certainly has a right to complain about a situation that could possibly drag on for years and not of his own making, he is also more than a little petulant at the same time, even managing to make matters worse at one point.(To the movie's vast credit, it does not show the central incident, not allowing the viewer to assign blame, even though otherwise we see events almost exclusively from the point of view of Mark's family.) No, it is Rudina who rises to the occasion, even showing some serious entrepreneurial skills. That works in favor of the movie gently subverting the patriarchy, this one in Albania where horsecarts and smart phones co-exist on unpaved roads.
An Albanian family is imprisoned in their home in accordance with ancient oral law (the "Kanun") after a killing sparks a blood feud with a rival clan. The Kanun itself, a strange rural anachronism in an age of cell phones and video games, is by far the most compelling character in this exotic but slow-moving drama.
½
I was enthralled by Joshua Marston's first feature film, "Maria Full of Grace" (2004). So I was very excited to see that he had finally made a second film. (He directed a lot of television during the intervening years.) But "The Forgiveness of Blood," despite having some wonderful aspects, is not going to be described by anyone as enthralling. It is set in present-day Albania. (Marston's ability to cross cultures continues to amaze.) A feud develops between two families, leading to a murder. The man who commits the murder disappears, and his wife and children have to go into seclusion. The two teenagers in the family, magnificently played by two young Albanian actors, are the center of the film. We get to experience the ordeal for the most part through these teenagers' eyes, a boy and a girl. I felt like I learned a lot about Balkan culture, and I did feel emotionally engaged with the characters. But the story just does not have enough content. There aren't enough dramatic elements. Not enough happens. It feels to me that Marston needed to spend more time developing the story before starting the film shoot. I wish he had. There are masterpiece elements in "Forgiveness" that lie to some degree inert on the screen because of the under-developed story.
William Dunmyer
Super Reviewer
The Forgiveness of Blood Quotes
| | |
| --- | --- |
| Rudina: | At least in prison, you would be safe. |
| | |
| --- | --- |
| Nik: | Remember that kid that stayed inside for six years? |
| | |
| --- | --- |
| Rudina: | Is that what you're wearing? |