The Fountain
(2006)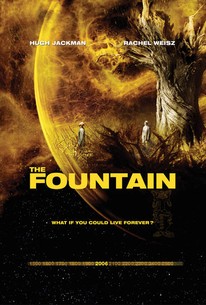 TOMATOMETER
AUDIENCE SCORE
Critic Consensus: The Fountain -- a movie about metaphysics, universal patterns, Biblical symbolism, and boundless love spread across one thousand years -- is visually rich but suffers from its own unfocused ambitions.
Movie Info
Requiem for a Dream director Darren Aronofsky switches gears from drug-induced urban malaise to abstract science fiction with this time-tripping symbolic tale of a man's thousand-year quest to save the woman he loves. Moving between representational stories and images, this meditation on life and death focuses on the concept of the mythical Tree of Life that is said to bestow immortality to all who drink of its sap. In one of the film's allegorical timelines, a 16th century Spanish conquistador played by Hugh Jackman sets out to find the tree in order to save his queen (Rachel Weisz) from the Inquisition. Another conceptual story finds Jackman centuries later, struggling with mortality as a modern-day scientist desperately searching for the medical breakthrough that will save the life of his cancer-stricken wife, Izzi. The third and most abstract concept finds Jackman as a different incarnation of the same character-idea, this time questing for eternal life within the confines of a floating sphere transporting the aged Tree of Life through the depths of space. Even more avant-garde than his breakthrough film Pi, The Fountain finds Aronofsky almost completely abandoning conventional story structure in favor of something more cinematically abstract. Though the film was originally slapped with an R by the MPAA, Aronofsky and co. re-edited it to conform to a PG-13 rating. ~ Jason Buchanan, Rovi
News & Interviews for The Fountain
Critic Reviews for The Fountain
Audience Reviews for The Fountain
A surgeon desperately searches for a cure for his wife's cancer while absorbing himself into the world represented by her final novel. Darren Aronofsky is nothing if not brave and once again willingly sacrifices mainstream acceptibility to realise his vision. Similar in format to 2046 in that fantasy and reality are happening in parallel on screen, The Fountain is a representation of his musings on mortality, love and loss and coming to terms with personal grief. It is a truly stunning film to look at with an appropriately beautiful score, complimented nicely by a surprisingly sensitive performance by Hugh Jackman. I'm sure some may dismiss the script as a load of pretentious claptrap, but I personally found it both visually and aurally enchanting as well as deeply moving. However you choose to look at it, The Fountain contains the kind of imagination and invention that is all too often missing from mainstream cinema and for that reason alone it is worth 90 minutes of anybody's time.
½
[img]http://images.rottentomatoes.com/images/user/icons/icon14.gif[/img]
Directors Cat
Super Reviewer
I like Darren Aronofsky. His films are just really well made and exude craft. Having liked all the other films of his I've seen, I figured that the inevitable slump would occur eventually, even though I didn't want it to. There is a lot to like here. It's not quite a bad film, just a deeply flawed one. "Interesting failure" I think is a good way to put it. Or maybe slight failure. The concept is cool, but the plotting, script, and execution are where the issues are. Also, it's okay to be a little obscure and make people have to think, but that's not the case here. This is just confusing and scattered. The visuals (and preference for camera tricks and practicals over tons of CGI) are amazing. They're are beautiful, and the camera work is likewise gorgeous. The performances are also pretty good, especially since the leads do double and triple duty. I did like the formal techniques and the use odd match cuts and recurring motifs...that's all good, but like I said, the concept and execution are rough. I did find the film engaging, and got something out of it, even if it's really confusing. As I said, this is a slight failure, but it's interesting, and has merits, so while it isn't quite a real success, there's enough good here to warrant a viewing.
Chris Weber
Super Reviewer
The Fountain Quotes
| | |
| --- | --- |
| Tomas/Tommy/Tom Creo: | All these years, all these memories, there was you. You pulled me through time. |
| | |
| --- | --- |
| Isabel/Izzi Creo: | I will not die, not here, not now, never... |
| | |
| --- | --- |
| Tomas/Tommy/Tom Creo: | Death is a disease, it's like any other. And there's a cure. A cure - and I will find it. |
| | |
| --- | --- |
| Tomas/Tommy/Tom Creo: | There's been progress at work... |
| Isabel/Izzi Creo: | [laughs] My conquistador! Always conquering... |