The Four
(2012)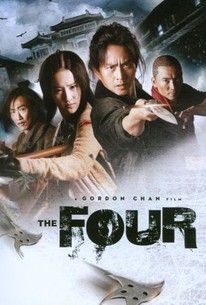 AUDIENCE SCORE
Critic Consensus: No consensus yet.
Movie Info
Legendary Hong Kong director Gordan Chan brings Wen Ruian's hit novel to the screen in this action-packed supernatural thriller that's the first chapter of an epic trilogy centered on the adventures of four legendary detectives and martial arts masters. A coin cast has been stolen, counterfeit currency is circulating, and now Coldblood (Deng Chao), Emotionless (Liu Yi Fei), Life Snatcher (Ronald Cheng), and Iron Hands (Collin Chou) are on the case. Operating under the powerful Master Zhuge (Anthony Wong), they form a powerful quartet capable of solving any crime. As government institutions and financial organizations conspire the four sleuths follow a trail of clues. Meanwhile the dead are rising up under the command of an unknown force, and carving out a swath of terror on their trail to the capitol. Master Zhuge's team may be the best at capturing criminals, but can they stand up to a horror that's beyond the realm of this reality? ~ Jason Buchanan, Rovi
Critic Reviews for The Four
There are no critic reviews yet for The Four. Keep checking Rotten Tomatoes for updates!
Audience Reviews for The Four
Apparently, it takes two to direct The Four; however, both Gordan Chan and Janet Chun can't put together a masterpiece of any kind.
For an investigative type of story, The Four requires attention to keep from getting lost. It isn't so much for the twists and turns, but more because of the less than stellar storytelling. From the get go, there are a number of characters to keep track of and there aren't enough plot details to help along the way. Things do eventually stabilize though.
Regarding the characters in this picture, the action becomes a bit of letdown. It has its moments, but there is definitely room for more. The use of CG is also decent, with maybe a little overuse.
Deng Chao's flat performance and character hurts this film a lot. Thankfully, Ronald Cheng is there to liven things up. Yifei Liu also ends up with an emotionless character, but she is more tolerable than Deng Chao. Besides, she ends up with the best fight of the picture.
The Four isn't a bad film by any means. It does have its disappointments, but it also has a good enough story, characters, and action.
The latest wuxia drama directed by Gordon Chan will definitely attract younger age audience. Not just because of the stars Liu Yifei, Anthony Wong, Wu Xiubo, Deng Chao, Collin Chou, Ronald Cheng and Jiang Yiyan involved , but the adaptation of Wen Rui'an's very popular zombie martial art novel. Co-directed by Gordon Chan and Janet Chun, this film is just a first in the trilogy, and the second and the third instalments are set to kick off shooting soon! [img]http://skrinshot.ru/files2/85887277271974023126243645849868.jpg[/img] At the moment The Four is the second highest grossing film with $31,060,000, and that says a lot for the Chinese taste in movies. If you are looking for stunning visuals and good effects, this film delivers. Screenplay is too complicated for comfortable watching for people who are not familiar with the book and I will suggest not to have any toilet or drink brakes: you could miss important part to understand the rest of the story (which has too many distracting details)! I have to admit that I was starting to get annoyed with the abilities of some of the heroes - they were jumping from one roof to another in one step - and instead of admiring them my reaction was laughter. If your age is allowing you to drink legally - you could skip this one... it has it's charm and qualities but few extra faults as well.
The Four Quotes
There are no approved quotes yet for this movie.