The Fourth Angel (The 4th Angel)
(2003)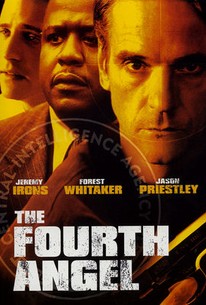 AUDIENCE SCORE
Critic Consensus: No consensus yet.
The Fourth Angel (The 4th Angel) Photos
Movie Info
An ordinary man remakes himself into a warrior after the death of his family in this thriller. Jack Elgin (Jeremy Irons) is a magazine editor living in London with his wife and three children. Elgin joins his spouse and his children as they set off for a trip to India, and when the plane lands due to mechanical failures, the flight is hijacked by terrorists from the "August 15th Movement," who insist on 50 million dollars in ransom from the United States government. The U.S. administration delivers on the request, but as the terrorists begin to evacuate hostages from the plane, circumstances go awry and Elgin's wife and child die in the subsequent fire. The hijackers are soon arrested but released from custody, and when Elgin protests this turn of events to a representative of the U.S. State Department (Jason Priestley), he is told there's little than can be done -- unless he's willing to take the law into his own hands. With the help of his friend Kate (Charlotte Rampling), who is well-schooled in the finer points of international intelligence, Elgin becomes a one-man anti-terrorist squadron, tracking down extremist factions and turning their own weapons against them. Elgin's work is so impressive it attracts the attention of Jules Bernard (Forest Whitaker), an FBI agent who has his own agenda regarding shutting down terrorists. The Fourth Angel was co-produced by American independent studio Artisan Entertainment, but its U.S. theatrical release was canceled in the wake of the September 11, 2001, terrorist attacks on New York and Washington, D.C. ~ Mark Deming, Rovi
Critic Reviews for The Fourth Angel (The 4th Angel)
Audience Reviews for The Fourth Angel (The 4th Angel)
Decent flick, could have been a lot better. Good performances by Whitaker and Irons.
Chosen 718
Super Reviewer
The Fourth Angel is quite ok and it has two very good role performed excellently by Jeremy Irons and Forest Whitaker! The story is good the things in it allows Irons to do a lot. There were some flaws in the movie, like the scene of the hijjacking, was not so convincing, people were sitting too quiet and relax in the chairs. The music is pretty good and it fits the film very well! The scenes when Irons and Whitaker are together really makes the film good and Whitaker does a very good job here.He is really a superb actor. Plus I like to see two unusual actors together in a film and see how they can make it interesting. Another the part I didn't like is the hunting scene. Other than this is a decent film! If you want to see Jeremy Irons and Forest Whitaker kicking some asses, than watch The Fourth Angel!
Daisy Maduro
Super Reviewer
The Fourth Angel (The 4th Angel) Quotes
| | |
| --- | --- |
| Jack Elgin: | It would be a hell of a world if civilized people couldn't distinguish between what they wanted to do and what they actually did. |
| | |
| --- | --- |
| Agent Jules Bernard: | Napoleon taught us never to stop an enemy when he's making a mistake. |
| | |
| --- | --- |
| Agent Jules Bernard: | Coincidence like the law has a long arm. |
| | |
| --- | --- |
| Kate Stockton: | Don't lose yourself. That would be the real crime. |