The Front Runner
(2018)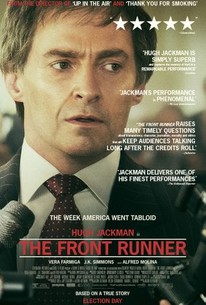 TOMATOMETER
AUDIENCE SCORE
Critic Consensus: The Front Runner exhumes the wreckage of a political campaign with well-acted wit, even if it neglects to truly analyze the issues it raises.
Movie Info
Oscar (R) nominee Hugh Jackman stars as the charismatic politician Gary Hart for Academy Award (R)-nominated director Jason Reitman in the new thrilling drama The Front Runner. The film follows the rise and fall of Senator Hart, who captured the imagination of young voters and was considered the overwhelming front runner for the 1988 Democratic presidential nomination when his campaign was sidelined by the story of an extramarital relationship with Donna Rice. As tabloid journalism and political journalism merged for the first time, Senator Hart was forced to drop out of the race - events that left a profound and lasting impact on American politics and the world stage.
News & Interviews for The Front Runner
Critic Reviews for The Front Runner
Audience Reviews for The Front Runner
½
In 1987, former Colorado senator and governor Gary Hart (Hugh Jackman) was the leading Democrat in primary polling and a sure bet to take on George H.W. Bush for the White House. In three weeks time, his campaign was in tatters and he folded. It all stems from a supposed affair he was conducting with Donna Rice (Sara Paxton). They deny anything but Gary acts like he has something to hide, evading the media's questions about his marriage and his past history with infidelity. Enough time has passed in the political landscape to take a deeper dive into Gary Hart's disintegration in the spotlight, and the moment serves a tipping point for changing media coverage. Journalists talk about the old days where candidate infidelity and ailments were just ignored as a gentleman's agreement of sorts between the gatekeepers, but should they have? While a candidate's martial relations are significantly less important than policy and governance, they do reflect character and what he or she (but, let's face it, mostly he) acts with authority. Strangely, The Front Runner wants to paint the hungry journalists digging into Hart's past as the real enemy, going above and beyond the bounds of ethics for crass sensationalism. This is directed and co-written by Jason Reitman (Tully, Up in the Air), a shrewd storyteller with a knack for human drama, which makes the "both sides are bad" equivocation all the more curious. Jackman is strong and has several scenes of righteous speeches talking about how he didn't sign away his privacy, except when you run for president, you kind of do, and the American public deserve to know if their leaders abuse power. The movie favors long takes with a wide supporting cast of players that speak like they stepped out of an Aaron Sorkin workshop (an exchange celebrating the "integrity" of news anchors wearing bad suits feels ripped right from Sorkin's unguarded typewriter). The film is nicely sympathetic to the "other woman" in this scenario and treats her like a human being with dimension. The PR recovery and shady deeds of Hart's team reminded me of the Chappaquiddick, which placed an unfavorable scrutiny on Ted Kennedy and his team of political spin masters after his deadly car accident. It all makes for an entertaining movie with solid performances and interesting character shading, but its perspective is too wobbly, trying to lay the blame on everyone it can find. Nate's Grade: B
Nate Zoebl
Super Reviewer
½
Hart should have known the Herald would sing. The Front Runner is about the birth of tabloid journalism infiltrating credible institutions, but what itï¿ 1/2(TM)s commenting on is how the media often allows a single moment of someoneï¿ 1/2(TM)s life to encapsulate and define that personï¿ 1/2(TM)s entire existence given the faceted perspective of how said incident is reported on. This is a fine truth to examine, especially through the lens of a 1987 scandal where the volume is comparably lower than the eleven todayï¿ 1/2(TM)s media cycle has been ratcheted up to, but the point director Jason Reitman (go watch TULLY now!) seeks to point out doesnï¿ 1/2(TM)t always jive with the story heï¿ 1/2(TM)s telling. The film makes it pretty clear Hugh Jackmanï¿ 1/2(TM)s (always reliable) Gary Hart was something of a womanizer on the reg and that the affair that outed him wasnï¿ 1/2(TM)t the only instance of this behavior. Reitman seeks to both make an example of Hart while also garnering empathy for the man, but the idea that the scrutiny or even the manner in which the scrutiny came down upon Hart was unwarranted begins to wain as the bigger picture around the Senator becomes clearer. What the movie gets right is highlighting the ramifications of Hartï¿ 1/2(TM)s actions on the women around him such as his wife, Lee (Vera Farmiga), his daughter Andrea (Kaitlyn Dever), as well as the woman involved in the affair, Donna (Sara Paxton)-whose line of dialogue, ï¿ 1/2I did all the things I was supposed to do so men wouldnï¿ 1/2(TM)t look at me the way you are right now.ï¿ 1/2Â?-perfectly encapsulates this theme. While the film has some quarrels about sorting out its question of where the line is between what is interesting and what is important, it must be noted that the roster of character actors in this thing is insane. J.K. Simmons, Josh Brener, Oliver Cooper, Alfred Molina, Mamoudou Athie, Ari Graynor (who I didnï¿ 1/2(TM)t even recognize at first), John Bedford Lloyd, Steve Coulter, Spencer Garrett, Steve Zissis, Bill Burr, Kevin Pollack, Mike Judge, Toby Huss, Courtney Ford, and Iï¿ 1/2(TM)m sure Iï¿ 1/2(TM)m missing others, but among all of these recognizable faces it is Tim Allenï¿ 1/2(TM)s other TV daughter featured here, Molly Ephraim (the other being Dever), who does much of the heavy lifting thematically and gives the film the edge it needs to be heard in todayï¿ 1/2(TM)s climate even if the voice behind it isnï¿ 1/2(TM)t as firm as it should be.
Philip Price
Super Reviewer
The Front Runner Quotes
There are no approved quotes yet for this movie.