The Frozen Ghost
(1945)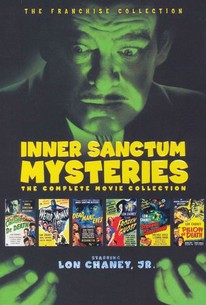 AUDIENCE SCORE
Critic Consensus: No consensus yet.
Movie Info
An installment from Universal's "Inner Sanctum" series (whose trademark featured an introduction narrated by a spooky disembodied head), this low-budget thriller stars Lon Chaney, Jr. as luckless stage hypnotist "Gregor the Great" who, after seemingly causing the death of one of his audience volunteers, is forced to go into hiding. He is eventually offered a job by Rudi Poldan (Martin Kosleck), assistant curator of a wax museum. This apparent stroke of good fortune is actually part of a nefarious scheme concocted by Gregor's sleazy manager (Milburn Stone), with whose assistance Rudi hopes to drive the unbalanced performer off the deep end and steal away his girlfriend (Evelyn Ankers). Chaney's performance is less than compelling and fails to give this low-rent programmer the melodramatic boost it desperately needs. Despite the title, no ghosts actually appear -- frozen or thawed. ~ Cavett Binion, Rovi
Critic Reviews for The Frozen Ghost
All Critics (2) | Fresh (1) | Rotten (1)
Lon Chaney Jr. stars in this fourth "Inner Sanctum Mystery," as a hypnotist riddled with guilt and women who are in love with him. It's watchable but easily forgettable. There are better Chaney films to spend your time on out there.
February 22, 2021 | Rating: 2/5
The movie seems a lot better than it probably is if you stop to examine it very closely. But why on earth would you want to do that?
Audience Reviews for The Frozen Ghost
The Frozen Ghost, 4th in Universal's Inner Sanctum series is really just more of the same as its predecessors--a little style and even less substance. This time, Lon Chaney Jr. plays a mentalist who takes refuge at a friend's wax museum after one of his stage shows goes awry. Drama follows, danger ensues and there's really not much more to it than that. The title's vaguely appropriate but mostly dumb, the acting's pretty stiff and the direction's a diluted version of the series' previous entries. The Frozen Ghost is barely an hour long and it took me 3 viewings to finally make it all the way through. Yeah, it's dull too...
Michael Gildea
Super Reviewer
The Frozen Ghost Quotes
There are no approved quotes yet for this movie.