The Frozen Ground
(2013)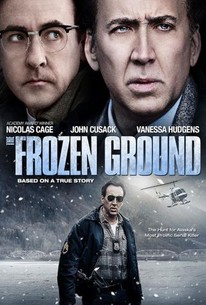 TOMATOMETER
AUDIENCE SCORE
Critic Consensus: Though this by-the-numbers true procedural seems basic, The Frozen Ground presents a welcome return for Nicolas Cage in a solid performance.
Movie Info
THE FROZEN GROUND is inspired by the incredible true story that follows Alaskan State Trooper Jack Halcombe (Nicolas Cage) as he sets out to end the murderous rampage of Robert Hansen (John Cusack), a serial killer who has gone unnoticed for 13 years. As the bodies of street girls start to pile up in Anchorage, fear strikes a chord with the public. Risking his life, Halcombe goes on a personal manhunt to find the killer before the next body surfaces. When a seventeen year old escapee (Vanessa Hudgens) reveals key information about the case, Halcombe is finally on the trail of the killer. But will he catch him in time to save the next victim? (c) Lionsgate
News & Interviews for The Frozen Ground
Critic Reviews for The Frozen Ground
Audience Reviews for The Frozen Ground
This little indie thriller is based on the real life story about an Alaskan State Trooper's quest to apprehend serial killer Robert Hansen whose malicious ways managed to stay largely off the map for about 13 years. Part of it had to do with the nature of the crimes, and a lot of it had to do with the fact that, at least to the public, Hansen came off as a very upstanding, decent, mild mannered guy. The last guy you'd really expect to be a monster. The film adds fiction by changing some of the names, and that sort of thing, but I don't think that matters much. In the end, what's important is that this is a gripping, entertaining thriller that makes the most of mood, tone, and atmosphere over loads of gore. That, and, while you already basically know where it's going, it's still a pretty suspenseful little affair. Nicolas Cage is the main trooper on the case, dropping basically all of the shtick he's become known for, and giving a solid, straightforward turn that proves he really is a talented guy. Vanessa Hudgens is a troubled stripper who initially escapes Hansen's clutches and helps out with the case, and then there's John Cusack as Hansen. He's great. It's unlike any of his previous performances, and he really sells it. He's not overt or campy, or over the top. He plays it straight, and as a result, is quite chilling. There's also appearances by 50 Cent, Radha Mitchell, and Dean Norris among others, and, while I could have used more of them, especially Norris (and that is in general, and not just here), they're fine. Well, 50 is the weakest, but that shouldn't be too surprising. The film uses the Alaskan locales to great effect, and the cinematography is wonderful. This is a stark, haunting land, and the grisly story is a perfect match for such climes. I enjoyed this quite a bit, but will admit that the story and script could have been stronger. They're decent enough, but the main thing that really makes this film work is the acting. Yeah, even Hudgens is good. I would compare this in a lot of ways to Zodiac, though this one isn't nearly the masterpiece that one is. I may be a bit easy on this one, but you know, I don't care. I think this worked quite well, despite a few flaws, so keep an open mind and give this a look.
Chris Weber
Super Reviewer
The hunter becomes the hunted. Good thriller! The film downplays the gore, while showing the seedy and soul-crushing underworld where Cusack finds his victims. A very nice bonus is that almost all of the police officers shown in the film are hard-working people who want to catch this killer, but know they have to work within the law to ensure he doesn't escape them in the courts. Vanessa Hudgens turns in a very nice performance as one victim who escaped and was instrumental in identifying the killer. The director does a fine job of capturing the ghostly silences of the frozen north, where so many of the man's victims were buried. All in all, a fine, atmospheric film that is both thrilling and sad. Well worth your time. Alaskan trooper, Jack Holcombe believes that Robert Hansen is a serial killer who abducts young girls then tortures and sexually assaults them then kills them. But he doesn't have enough evidence to justify a search warrant of Hansen's premises. He knows one of his victims, Cyndy Paulsen somehow survived so he tries to find her and asks her to help him. But when he finds her, she's a junkie and has trust issues. So Holcombe has to try and earn her trust so that she could help him. But Hansen is still doing it.
Very badly fictionalized. The truth may have needed adjustments to make it gripping; however, while it adjusts the truth, it fails to make it interesting enough.
familiar stranger
Super Reviewer
The Frozen Ground Quotes
There are no approved quotes yet for this movie.