The Furies
(1950)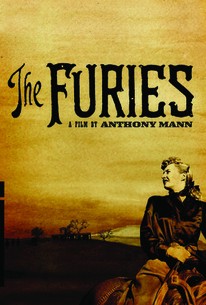 Movie Info
A confused young woman's conflicting feelings about her ruthless, domineering father drive her to murder in this convoluted, off-beat western. Her daddy, a cattle baron, is manipulative and shrewd. After he hangs his daughter's squatter friend, the woman decides to get revenge.
Critic Reviews for The Furies
Audience Reviews for The Furies
Robust western with greek tragedy overtones. Stanwyck is great as always matched by Huston and Anderson.
½
Western Noir Epic Melodrama. (NOT a Buddy Movie, NOT a Musical.) A transitional and somewhat uneven work for Mann. Worth a look for many reasons - including bravaura final performance by Walter Huston. I want Barbara Stanwyck to kick my ass. There, I said it.
Bob Stinson
Super Reviewer
a great overlooked western from anthony mann. walter huston is always a joy to watch and in his last film he plays the boss of the furies, a man so powerful he prints his own currency. barbara stanwyck plays his willful daughter who's determined to control his ranch one way or another. she may have come from brooklyn but she looks like she belongs in the vast western landscapes. it's a compelling family melodrama with wonderful performances all around and great chemistry between father and daughter with their conflicts and tough talk. you'd almost think they were related. it's well worth checking out altho perhaps wrapped up a little too neatly in the end
Stella Dallas
Super Reviewer
The Furies Quotes
There are no approved quotes yet for this movie.