The Game
(1997)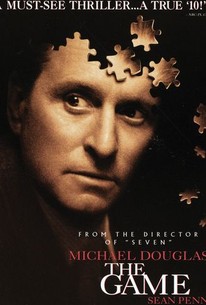 TOMATOMETER
AUDIENCE SCORE
Critic Consensus: The ending could use a little work but this is otherwise another sterling example of David Fincher's iron grip on atmosphere and storytelling.
Movie Info
Director David Fincher followed the success of his dark and atmospheric crime thriller Seven (1995) with another exercise in stylish film noir, this time lifting the pallid atmosphere a notch to indulge in a fast-paced trip through the cinematic funhouse. Michael Douglas plays Nicholas Van Orton, a Scrooge-like San Francisco investment banker following in his father's Scrooge-like footsteps. On Nicholas's 48th birthday (the age at which his father committed suicide), his younger, free-spirited brother Conrad (Sean Penn) blows into town and gives Nicholas a special gift for "the man who has everything" -- a ticket to CRS (Consumer Recreation Services), a company that constructs games custom-fit for each participant to provide, as CRS salesman Jim Feingold (James Rebhorn) cryptically puts it, "whatever is lacking." Nicholas's secure life begins a downhill slide as CRS masterminds a series of elaborate pranks, harmless at first, that quickly become malicious and life-threatening. Stripped of financial resources and convinced that he can trust no one, Nicholas begins to wonder if CRS is a front for a more covert operation, and if the game is in fact an attempt to steal his fortune and leave him for dead. Determined to fight back alone, Nicholas infiltrates CRS in order to "pull back the curtain and meet the wizard." ~ Anthony Reed, Rovi
News & Interviews for The Game
Critic Reviews for The Game
Audience Reviews for The Game
A forgotten Fincher gem to be sure, not exactly an original idea but superbly well made and directed by the cult creator. The plot has been seen before but it works well by playing on the paranoia and scares of everyday life, things that could go wrong if our lives fell apart before our eyes. The fear of losing everything, nowhere to turn, no one to trust, something that all working people can relate to. Michael Douglas plays 'Nick Van Orton', a very rich Scrooge-like character who cares little for anyone, lives like a king whilst playing the investment banker game. So yeah this could be 'Gordon Gecko' as an older man I guess, its very familiar. Upon receiving a gift card type present from his brother for a 'game' company Orton proceeds ahead with the offer and discovers himself in a world of hurt. The tension builds at a slow pace as small things start to happen to Orton, nothing much at first but slowly the situation gets worse and worse. It really is quite creepy and uncomfortable to watch as his job is threatened, his home and even the people he knows, the walls come crashing down around him and he's virtually powerless to stop it. I guess you could say the film is bordering on identity theft of the highest order, with the exception that the main character agreed to everything. That's the itchy fact that sits on your mind the whole time, he agreed to it!! almost like a blackmail fetish. Sure he knew nothing about the company and what was on offer but the trust factor of his brother giving him the gift really adds to the mystery of it all. But on the flip side this mystery is also slightly damning really. If you really think about it, would anyone really accept what this unknown company offers in the film? would you really go along with all those medical tests and mental tests that last all day and at the end of it sign your life away without a clue what will happen?! I bloody wouldn't!. This is the intrigue (or start of it) but also the main problem with the plot, no one would do that, especially someone like Van Orton with tonnes of money and a grand reputation to lose. Even if you did agree to this bizarre mystery game, would this company really go as far as they do in the film?. Would a real company really be able to take everything away from you including your property, car, job, friends and family so easily?. Leaving you almost homeless with seemingly everybody against you, people double crossing you, even going as far as to try and kill you!!!, taking you to the point of near break down, suicide or murder...just for a game??...that's a gift!!. I mean yeah sure the concept for the movie is thrilling but if you step back and look at it its totally insane really. Who could say Van Orton wouldn't blow his brains out very early on or actually kill someone?, on the other hand surely he could easily get around the game by simply going to his building that he owns. The mystery company has seemingly gotten to people, his property and his money but surely they wouldn't be able to get everyone in his own building in on the trick. He could of just walked in there at anytime, his name is on the entrance for pete's sake! did he forget he owned that building? it wouldn't have disappeared. I must confess to not liking the ending either, it twists more than a helter skelter but instead of leaving you in awe it leaves you thinking Fincher went one step too far. It also feels way too convenient, as if they knew Orton would do what he did, just seems too impossible to predict. Great colour palette by Fincher too I might add. Rich with dark tones, moody and dull, yet at times kinda faded or washed out, a bit noir-ish and every scene is full of detail. Some of the best visuals are seen when Douglas is relaxing in his luxurious wood panel study, very nice and probably not too far off Douglas' real home decor. Douglas is also perfect as Orton (he knows how to play slimeballs), the cool, slick, cold business man who is reduced to a quivering wreck with anxiety overload. You can feel the sweat droplets running down your brow as you observe Douglas going through his nightmare, one of his best performances. Despite the over the top nature of the plot the film is a great thriller and succeeds in creating discomfort during the whole run time.
Phil Hubbs
Super Reviewer
A misanthropic millionaire gets a strange birthday present from his brother: an invitation to play in "the game," a contest that turns out to have no clear rules but lots of gunplay. Solid thriller that keeps you wondering to the end and disguises its many implausibilities well enough so you don't think about them much until the movie's over.
Nicholas: I don't care about the money. I'm pulling back the curtain. I want to meet the wizard.  "There are no rules in The Game." The Game is, above anything else, a lot of fun. It's not just entertaining in the ways normal films are, but it actively keeps you in the experience like few movies can. It sucks you in, and your goal is the same as the movies tormented character Nicholas: to find out just what the fuck is going on. Is someone fucking with him? Is he hallucinating? Is he dreaming? Is this a con? Is this a true present? Who the fuck knows, but the lead up to the discovery is magnificent. So what if the payoff is a little too easy. The other 99% of the film is hallucinatory. I couldn't tear my eyes away from it. It's David Fincher doing what he does best. And it's Michael Douglas doing what he does best. Hey, and Sean Penn is there too. What isn't to like?  Nicholas is an investment banker, who doesn't really do anything other than work. He doesn't have any true relationships anymore outside of his housekeeper. He meets his brother, Conrad, who he hasn't seen in sometime. Conrad gives a birthday gift and it isn't the usual birthday gift. He gives Nicholas a certificate to play some sort of game that is different for every customer. When he decides to go to the CRS office and see what it's all about, his life is thrown upside down. He soon finds himself seeking answers to just what is going on. It's a movie thats pieces fall in place as it goes, and as they do, we discover that this puzzle has some glaring holes in it. Some pieces were lost along the way, but that can't take much away from just how well paced and directed and acted, this film was.  The Game winds up being a smart, stylish film in the end, no matter how it is wrapped up. There's a trend to Fincher films. They are all smart and stylish. The movies style is equaled by its substance. I appreciate how far this movie goes to warp our view of the situations and occurrences of the events in Nicholas' game experience. The twist at the end isn't one that will completely make or break the movie in your mind. It's just there. The lead up is the movie. The twist is just some way to end it.  A highly recommended film. If you can't have fun watching The Game, then I don't what type of movie could make you have fun. This one is as entertaining a movie as you could hope for. Is it as good, technically speaking, as Fincher's other thrillers like Seven and Fight Club? No, but it is just as involving, twisted, and entertaining. Another movie to use as evidence to show just how great of a director Fincher is. 
Melvin White
Super Reviewer
The Game Quotes
| | |
| --- | --- |
| Nicholas Van Orton: | Greed is good. |
| | |
| --- | --- |
| Conrad: | [on Consumer Recreation Services] They make your [Nicholas] life fun. |
| | |
| --- | --- |
| Jim Feingold: | What are you gonna do, anyway? You won't get your money back. |
| Nicholas Van Orton: | I don't care about money. I'm pulling back the curtain. I want to meet the wizard. |
| | |
| --- | --- |
| Nicholas Van Orton: | I'm a very wealthy man. Whatever they're paying, I'll double it. |