The Game Plan
(2007)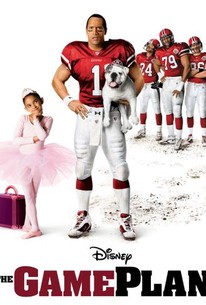 Movie Info
"The Game Plan" tells the story of rugged superstar quarterback Joe Kingman, whose Boston-based team is chasing a championship. A "serial bachelor," Kingman is living the ultimate fantasy: he's rich, famous and the life of the party. But, this dream is suddenly sacked for a loss when he discovers the seven-year-old daughter he never knew he had--the product of a last fling before parting years ago with his young wife. Now, during the most important time in his career, he must figure out how to juggle his parties, practices and dates with the newfound ballet classes, bedtime stories and dolls that come with his daughter. Equally perplexed is his hard-edged mega-agent, Stella, herself without a parental bone in her body. Despite the often hilarious misadventures that come with being a new father, Joe discovers that there's more to life than money, endorsements and thousands of adoring fans: the love and care of one very special small fan is the only thing that matters.
News & Interviews for The Game Plan
Critic Reviews for The Game Plan
Audience Reviews for The Game Plan
½
Come on Dwayne, stop doing crappy kids movies. Joe Kingman (Dwayne "The Rock" Johnson) is a famous quaterback who is living the dream life, but gets a unexpected surprise when a daughter he never met named Payton (Madison Pettis) and she turns his life upside down. This is just a simple movie just for kids. This movie is something kids will love, but adults will fall asleep. I really disliked this movie.
Jim Careter
Super Reviewer
I knew this movie was terrible the first time I saw it, but I needed to see it a 2nd time on (what else?!) but ABC Family (Don't ask why I watched it) to realize how horribly wrong this movie went. Let's start with the Rock's new, and absolutely NOT improved, style. Dwayne Johnson is trying to be the family movie guy, who makes kids laugh and parents go "Awwwww!" Well it's really not working! Seeing him play a soft hearted football player was stupid, and flat out disturbing. Also, here's a tip Dwayne! Family movie characters don;t get these looks where they look like a robot out of a terminator film! The little girl was worse. I don;t care if she's cute or not, she was more annoying then watching Glee for 5 days straight without water, food or sleep. She was an EXTREMELY bad actor, especially when she tries to be serious, which gives me no choice but to yell out a spontaneous "YEAH, I'M ACTING!!" And then they had to drag Kiera Sedgewick into this nonsense. That's right, Kiera Sedgewick, from The Closer, actually makes an appearence in this film as The Rock's agent. The humor was god awfully bad too. Like when the attorney is eating a Fanny's Burger and farts. I guess the director of The Gameplan, is one of those idiots who thinks farting is funny. And then there's the scene where thr cok is covered in bubbles and looks like a clown, only to find out his football is bedazzled? What am I suppoused to say? Oh yeah! Hahahahaha...No, no I just can;t say it. Bottom line, this movie is terrible, stupid, predictable, unrealistic and stupid. Yes I said stupid twice, that's how bad it is.
Marc Lewis
Super Reviewer
I'll give it a C+ for effort. Grade: C+
Matt Goodman
Super Reviewer
The Game Plan Quotes
| | |
| --- | --- |
| Joe Kingman: | You need to be a mom to do this stuff. |
| Monique Vasquez: | I don't know about that. True mothers are smarter, kinder, and better at just about everything. |
| | |
| --- | --- |
| Joe Kingman: | I thought you were dead. |
| Karen Kelly: | I can assure you I'm not dead. |
| | |
| --- | --- |
| Peyton Kelly: | [to Joe] My name is Peyton. I'm your daughter. |
| | |
| --- | --- |
| Joe Kingman: | Peyton, I have an an answer for your question. After this game, win or lose, you're the best thing that's ever happened to me. |