The Garden
(2006)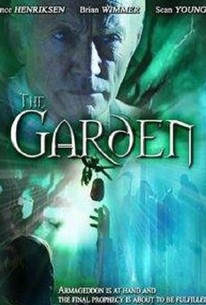 AUDIENCE SCORE
Critic Consensus: No consensus yet.
Movie Info
When a recently released mental patient and his recovering alcoholic father are forced to reside at a remote ranch, the nightmares that haunt the trouble boy's sleep soon begin bleeding into his waking hours in a terrifying journey into the unknown starring Lance Henriksen, Brian Wimmer, and Sean Young. Sam (Adam Taylor Gordon) just can't seem to keep his demons in check, but with a little help from his father he hopes to find the power to start a new life in a new place. Though the scenic ranch of the mysterious Ben Zachary (Henriksen) seems like the perfect place to turn over a new leaf, Ben soon discovers that there's something far more sinister than he ever imagined unfolding on the outwardly peaceful landscape. When the dead begin to walk and temptation seduces Sam into committing the ultimate atrocity against nature, the suffering of the innocent will unleash an apocalyptic force of evil the likes of which humankind has never seen.
Critic Reviews for The Garden
All Critics (3) | Fresh (1) | Rotten (2)
The Garden was one of those films that I was surprised I enjoyed, and that's a nice feeling to have whether your in a movie theater or on your couch watching a DVD.
...ultimately undone by its excruciatingly slow pace and overly talky vibe.
A dry, ponderous, and virtually intrigue-free combination of Frailty and Misery.
Audience Reviews for The Garden
The film tells the story of a psychologically troubled pre-teen boy named Sam (brilliantly played by Adam Taylor Gordon) who is having trouble dealing with his parents' divorce, and as a result he has violent and vivid dreams that makes him self mutilate himself. After his father David (Brian Wimmer) checks him out from a mental hospital the two get into a nasty car accident on their way home and wakes up on an isolated farm owned by a mysterious old man, Ben Zackery (LANCE HENRIKSEN). He offers David a job until they wrap up some business back home. The problem is that Ben Zachary isn't who he says he is. Instead of being a benevolent farmer, he is really the Devil incarnate. On his property is the Tree of Life from the Garden of Eden, the place where our whole existence began according to the Holy Bible. In order to overturn God's world, Zachary is trying to find a willing human to eat from the tree and has sinister plans for the both of them involving witchcraft and evil. There is a fair share of gore and violence including the creepy bathroom scenes and Zackery sewing his victims mouth shut while Sean Young pops up as the bible schoolteacher Miss Chapman whom Sam befriends.
The Garden Quotes
There are no approved quotes yet for this movie.