The Gathering
(2006)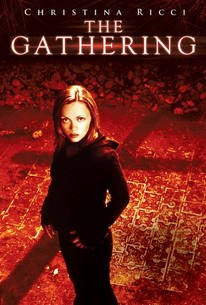 Movie Info
The discovery of a strange religious relic may have something to do with the terrible dreams haunting a young woman in this stylish thriller from Great Britain. When a pit opens up in a small English town, the local priest, Luke Fraser (Simon Russell Beale), is startled to discover what appears to be an ancient church lurking beneath. Fraser asks a friend with a background in archeology, Simon Kirkman (Stephen Dillane), to investigate the ruins, and Kirkman is startled to find a series of striking realistic sculptures and an usual portrait of Jesus in which the savior turns away from the church. As Kirkman and his wife, Marion (Kerry Fox), are driving home from the site, they accidentally hit Cassie Grant (Christina Ricci), an American student who is crossing the street. While Cassie isn't seriously injured physically, she has suffered a blow to the head that's left her with a mild case of amnesia; Marion brings Cassie home to recuperate until her memory returns, and in the meantime, Cassie helps keep an eye on Michael, Simon and Marion's young son. Soon, Cassie begins having a series of vivid and disturbing dreams involving the people of the town suffering violent deaths. Kirkman and Fraser begin wondering if the church was buried on purpose (and if so, why) and if Cassie's nightmares are somehow connected to the discovery of the house of worship. Completed in 2002, The Gathering didn't see release until 2004, when it opened in France and Germany.
News & Interviews for The Gathering
Critic Reviews for The Gathering
Audience Reviews for The Gathering
[img]http://images.rottentomatoes.com/images/user/icons/icon14.gif[/img] It's silly plot and tagline suggested something pretty damn stupid. Whilst watching it my expectations were justified. Overall, it's a barely passable horror flick that suffers hugely from its cliche's, sometimes wooden acting, and cringe worthy script. However Christina Ricci's performance is likable and engaging, she makes the film bareable despite it's faults. The Gathering is enormously predictable, but the dream sequences are cool and filmed brilliantly, and the set pieces are structured to a decent enough quality. The story is also very peculiar and interesting and deals with morals. The result of (some) of the talent could have been a lot better, but for a narratively ridiculous biblical thriller, it's not that bad.
Directors Cat
Super Reviewer
Christine Ricci is alike her co-star Kim Basinger's role in Bless the Child to assist and protect an innocent child in this supernatural thriller. It has more in common with the Hilary Swank film The Reaping than The Da Vinci Code or The Omen.
Dean McKenna
Super Reviewer
½
Basically a lower quality, pseudo-religious Mothman Prophecy. Not especially good, not especially bad.
FanGirl Browncoat
Super Reviewer
The Gathering Quotes
There are no approved quotes yet for this movie.