The Ghost Ship
(1943)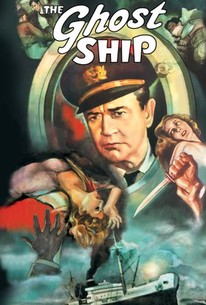 Movie Info
In this film, Richard Dix stars as a ship's captain, a tortured soul who teeters on the verge of madness. Seaman Russell Wade notices the captain's deterioration, but his warnings go unheeded. Captain Dix completely goes over the edge, sadistically playing a game of cat and mouse with Wade.
Critic Reviews for The Ghost Ship
Audience Reviews for The Ghost Ship
This is a strange confusing movie, which I'm not sure actually has any ghosts on the ship. There are so many "Ghost Ship" movies out there, it gets confusing.
Not a great movie. The title Ghost Ship kind of makes you think you're in for some atmospheric tale of the supernatural, right? WRONG! The Ghost Ship is just some metaphor for a life of lonliness at sea for a half-assed take on Mutiny on the Bounty. A few of the characters were colorful enough to keep my interest for a few minutes but this wasn't Val Lewton's crowning achievement. Its a quick watch if you feel you need to watch that entire Warner Bros Val Lewton set but nothing anyone should actively seek out.
Michael Gildea
Super Reviewer
This is actually a pretty good film when you think what year it was made. Nothing to scary, just a good old school B&W film,. The captain of the ship is crazy and the new third mate tries to prove it to the crew and they are not having much to do with it. Good Suspense its worth 3 1/2 stars
Bruce Bruce
Super Reviewer
The Ghost Ship Quotes
There are no approved quotes yet for this movie.