The Giant Mechanical Man
(2012)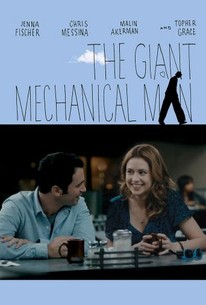 The Giant Mechanical Man Photos
Movie Info
Janice (Jenna Fischer) is down on her luck. Out of work and living with her well-intentioned but overbearing sister Jill, Janice is struggling to find her way and build a fulfilling life for herself. When she meets Tim (Chris Messina), a street performer whose unique talents as a "living statue" don't exactly pay the bills, she recognizes a kindred spirit. As they get to know each other, Janice begins to feel that she has met a like-minded person who could make her happy. But as their connection begins to blossom, Jill's meddling ways threaten to undermine Janice's first real shot at love. -- (C) Tribeca
News & Interviews for The Giant Mechanical Man
Critic Reviews for The Giant Mechanical Man
Audience Reviews for The Giant Mechanical Man
½
Didn't expect much, but this was quite a sweet little movie. I have the Australian rental copy which is renamed "Love is in the air" and has a big picture of a smiling Makin Ackerman on the cover, so I was expecting something very light and fluffy. Actually, Jenna Fischer is the main actress and Malin has a smaller role as her younger, but more stable sister. Jenna plays a young woman who has lost her job, then her flat and has to move in with her sister who is hellbent on matchmaking her with an absolute douche author who runs seminars on how to talk to people. Honesty I did not recognize Topher Grace in his wig. I couldn't stand the character, but full points as I think that was the idea! Along the way she meets a similarly lost man who does street art as a mechanical giant and the two connect. The movie is nicely done and a little deeper than I expected. Yes, it gets a little far fetched at the end, but it's sweet. Definitely sat through worse.
Nicki Marie
Super Reviewer
It's not perfect, but it is a charmingly, quirky film. Though bizarre at times, it is occasionally funny, well-filmed, and has an interesting premise. What makes up for the film's cliched or odd moments is Jenna Fischer's great performance. Ms. Fischer makes an engaging and likable protagonist which begs the question what is next for her career in film. She delivers the awkward lines flawlessly and charms the viewer from beginning to end.
Matthew Samuel Mirliani
Super Reviewer
This is a sweet Indie style romantic comedy. It is a little slow moving, but never dull. Chris Messina, and Jenna Fischer, are both completely adorable. A real feel good, makes you smile a lot, kind of movie...
Cynthia S.
Super Reviewer
The Giant Mechanical Man Quotes
There are no approved quotes yet for this movie.