The Girl
(2013)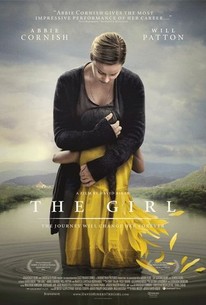 Movie Info
Struggling with the loss of her child to Social Services, a single mother is trapped in the quicksand of her south Texas life. When her path collides with a young girl from Mexico, she begins a journey that will change her life - discovering that she is the architect of her own fate and learning what it is that truly defines home. (c) Official Site
Critic Reviews for The Girl
Audience Reviews for The Girl
½
In "The Girl," Ashley(Abbie Cornish) has problems that extend just beyond her low paying job. Namely her DUI conviction that resulted in her son being put into foster care. So, she welcomes the opportunity to bond with her father(Will Patton) at his home in Mexico. After finding out what he does for money, namely smuggling people across the border in his truck, she gets some ideas of her own... Abbie Cornish deserves better than this. In the past she has shown much more promise and talent than here with "The Girl" where her character is mostly defined by a wonky Texas accent.(Will Patton is great, by the way.) At the same time, that's one of this sentimental and mawkish movie's lesser flaws, where the central point seems to be to prove that Ashley is really not such a terrible person after all. This is in a world where migrants have bigger problems than clueless white people.
I really liked this movie. If you are looking for an action-packed thriller, look somewhere else, though. This is a slower paced film about a flawed woman trying to correct her actions. The movie contrasts the sensibility and strength of a young Mexican girl, with the selfishness of the American woman. The very poor Mexican family lives with dignity, while she lives in squalor. This was a good, heartfelt film. Abbie Cornish turned in a lovely performance as always, and the little girl in this was adorable.
Cynthia S.
Super Reviewer
The Girl Quotes
There are no approved quotes yet for this movie.