The Girl Next Door
(2000)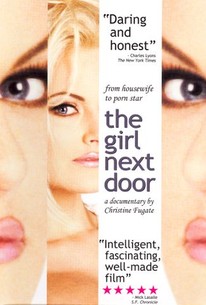 The Girl Next Door Photos
Movie Info
In 1995, Oklahoma housewife Stacy Baker sent a topless photo to Gallery, a men's magazine which printed it in their "Girl Next Door" feature. The photo prompted an invitation from Hustler to pose for a photo spread, which led to an offer to star in a porno movie, and Stacy soon left her husband, headed to Los Angeles, and never looked back. A few years later, she was making up to two thousand dollars for each sex scene she performed on camera. The Girl Next Door examines Stacy Valentine's new life and career as one of the leading stars in adult entertainment, as she explains her success ("I know I'm good at sex"); deals with her mother, who remains supportive but refuses to see her daughter's movies; shares the occupational hazards of life as a porn star (frequent rounds of plastic surgery and the difficulty of maintaining a romantic relationship); and struggles to live a normal life in a business that doesn't always encourage it. The Girl Next Door was directed by Christine Fugate, who previously made several acclaimed documentaries for PBS, including Tobacco Blues and Mother Love, and worked on the Playboy Channel's magazine series Sexcetera.
Critic Reviews for The Girl Next Door
Audience Reviews for The Girl Next Door
Stacy Valentine, a successful porn star, started as an Oklahoma housewife. This documentary's behind-the-scenes reveals about Stacy Valentine are fascinating, but when Valentine wonders about why she's so depressed and where all her personal, emotional, and professional strife comes from, it becomes evident that she isn't a remarkably deep or intelligent human being. She's interesting because she's hot and willing to fuck in any and every which way people can imagine. She's interesting because she's in an interesting industry (say what you want about porn, but it's at least interesting that people pay money to watch other people do something that is generally considered private). But her context is where her fascinating qualities begin and end. Overall, there are interesting parts about this documentary, but its central subject can wear on anyone's patience.
Jim Hunter
Super Reviewer
Nope, not the film with hotty Elisha Cuthbert but rather a behind the scenes look at Stacy Valentine..a very pretty porn star who ruins herself with plastic work and ends up a disgusting stereotype.
John Ballantine
Super Reviewer
The Girl Next Door Quotes
There are no approved quotes yet for this movie.