The God Cells
(2016)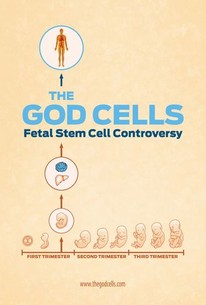 Movie Info
Merola Productions is proud to present the US Theatrical release of THE GOD CELLS, a film directed by award-winning documentary filmmaker, Eric Merola. The film will open at Cinema Village in New York on June 3rd and at Laemmle Music Hall in Los Angeles on June 10, a national release will follow. THE GOD CELLS explores one of the most controversial and polarizing subjects facing mankind today: the harvesting of stem cells from aborted fetuses to be used for therapeutic use. Currently, the clinical practice fetal stem cell therapy is illegal in the United States, but research toward seeking FDA-approval has been underway for more than a decade. Stem Cell research and therapy have been growing at a rapid rate over the past 15 years. Scientific advances coupled with consumer demand has proven that stem cell therapy is the wave of the future, and is poised to change the face of medicine. THE GOD CELLS takes the audience on a journey by following those who are seeking fetal stem cell therapy abroad-while avoiding these seemingly insurmountable roadblocks at home. Originally harvested by abortions, Fetal Stem Cells are arguably the most contested and controversial form of stem cell therapy to date. Not only does this technology face enormous religious opposition, but commercial and regulatory agencies wish to slow down the approval process for fetal stem cells due to profit and market reasons- creating an atmosphere for a seemingly insurmountable dilemma. The documentary follows patients from all walks of life who sought fetal stem cells for a variety of reasons: including Parkinson's, Multiple Sclerosis, Muscular Dystrophy, Lupus and Chronic Lymphocytic Leukemia. Also included are interviews with some of the patients' doctors, who were once highly skeptical, but now stand baffled by the full remissions their patients have achieved due to fetal stem cells. Eric Merola's previous films within the same genre of THE GOD CELLS have garnered wide audiences, starting with his debut documentary series Burzynski (2010-2013), which has been viewed by millions, and sparking an international movement. Merola's third documentary Second Opinion received rave reviews by the mainstream press with the New York Daily News saying: "Though a documentary, it's dramatic enough to be reminiscent of 'The Insider,' the whistleblowing thriller about Big Tobacco." The God Cells far exceeds the scope of anything else Merola has produced or that mainstream audiences have experienced. It has it all: religious conflict, scientific controversy, and a message that could bring down the pharmaceutical industry itself: because any patient with any ailment can seek this therapy; and any group with the proper resources can provide it. In a sentence, "this movie will piss off more people for more reasons than we can count-while also giving hope to countless others who once thought their declining health situation was hopeless."
Critic Reviews for The God Cells
Audience Reviews
There are no featured reviews for The God Cells at this time.
The God Cells Quotes
There are no approved quotes yet for this movie.