The Godfather of Green Bay
(2006)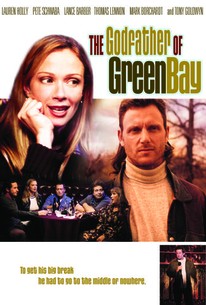 AUDIENCE SCORE
Critic Consensus: No consensus yet.
Movie Info
Joe Keegan is the "Rocky" of stand-up comedy. A 15-year comedy veteran who was pegged for stardom early on in his career but has blown every major audition he has ever had. Joe's friend Kenny tells him he can get an audition for 'The Tonight Show' and that it's "a can't miss." The one catch is that it's at a roadside bar in tiny Pine Lake, Wis., hometown of "Tonight Show" talent scout Harvey Skorik, who never misses Rocktoberfest. Having doubts, but needing a break from L.A. , Joe reluctantly agrees to go. Arriving in Wisconsin , Joe encounter's his former high school English teacher, the beautiful Molly Mahoney, who is also at a crossroads in her life, coming off a failed marriage. Joe tells her he just wants to prove to himself that he hasn't been wasting the last fifteen years of his life. Molly makes him realize just the opposite - that he has been living his dream. Things finally start looking up for Joe Keegan until he finds that his audition will be in front of his toughest crowd yet -- Packer fans, deer hunters and The Godfather of Green Bay, Big Jake Norquist, a former high school football star turned drug dealer, who is also in love with Molly.
Critic Reviews for The Godfather of Green Bay
All Critics (2) | Top Critics (1) | Fresh (0) | Rotten (2)
Not a good movie, but sort of likable.
September 28, 2006 | Rating: 2/4

You don't have to be an overly sensitive Dairy State booster to take offense. It's more than enough to simply be a fan of film or comedy.
March 24, 2006 | Rating: 1.5/4
Audience Reviews for The Godfather of Green Bay
This wasn't as bad as I thought this was going to be. Decent casting with especially with Thomas Lennon from Reno 911. There were a couple times whent he jokes fell flat, but when the jokes were on, they were good. Sometimes the story was alittle choppy and it did seem like a little too much to tie up the payoff. The payoff of the movie was too quick and it took away from the movie. Decent little movie though.
The Godfather of Green Bay Quotes
There are no approved quotes yet for this movie.