The Good Doctor
(2012)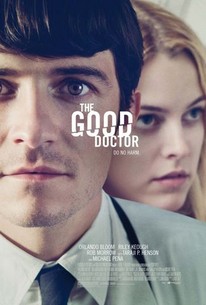 Movie Info
Martin Blake (Orlando Bloom) is an ambitious but anxious young doctor, eager to impress his superiors and colleagues: Chief Resident Waylans (Rob Morrow), self-assured fellow intern Dan (Troy Garity) and no-nonsense nurse Theresa (Taraji P. Henson). But things are not going Martin's way and he can't seem to shake off his insecurities. When 18-year-old patient Diane (Riley Keough) is admitted for a kidney infection, Martin steps in, getting the much-needed boost of self-esteem he craves. But things take a dark turn as his enthusiasm begins to become an obsession. -- (C) Magnolia
News & Interviews for The Good Doctor
Critic Reviews for The Good Doctor
Audience Reviews for The Good Doctor
The film was ok, but could have been so much better. They had a good idea for a film, but didn't execute it correctly. They needed a rewrite. The first 2/3rds of the film was good. I had a problem with the last 1/3rd of the film. I didn't like the Michael Pena storyline. I was disappointed by the ending. The film kind of reminded me of the movie Malice. Performance wise Orlando Bloom does a really good job. Also some good supporting performances from Taraji P. Henson, Riley Keough, Rob Morrow, and J.K. Simmons.
½
This was a thrilling and disturbing film. Orlando Bloom's portrayal of the good doctor was haunting and intriguing. Michael Pena's approach was interesting as well. Highly recommended.
Christian C
Super Reviewer
If Orlando Bloom were an unknown actor making his movie debut here, I would TOTALLY tell him, "Dude, you gotta use this for your reel!" He comes across here as really interesting, one to watch. This is a quietly riveting film, but one that ultimately feels half-baked and often preposterous. As we follow a young medical resident through his first days at a hospital, his attraction to a female patient begins to reveal an obsessive, psychotic personality. I was reminded of Robin Williams in ONE HOUR PHOTO, although THE GOOD DOCTOR has a muted, hushed tone throughout. Bloom's character lacks that one showy scene that could have sent this story over-the-top into FATAL ATTRACTION territory, and it's all the better for it. A calm, cool and collected main character is far more interesting to watch than one who bellows and bleats all the time like some sort of mutant Al Pacino/Jack NIcholson villainous hybrid. Bloom and co-star Riley Keough set the tone here with their very hushed doctor/patient interactions. It's all quiet, understated subtext that rules the day here. Unfortunately, as things progress, even though the filmmakers have taken great pains to ensure an internal logic, it's almost impossible not to throw up your hands at some point and say, "Really? REALLY?" Taraji P. Henson and Michael Peña get the best moments here as tow co-workers who seem to see right through Bloom's character. Molly Price and Troy Garity, however, appear to be victims of editing, as I don't understand at all the appeal here for the pair. Price is usually so witheringly good, and there definitely was room for a big showdown of a scene involving her and Bloom, but it never comes to pass. Garity just kind of traverses the sidelines of the story and never comes into focus. BEE-ZARRE! What we're left with here is a carefully modulated cautionary tale about the dangers of hospitals. Without spoiling anything, the ending is intentionally abrupt, and feels deeply unsatisfying at first glance. After shaking my head and flapping my hands as I headed to the lobby, I thought about it some more and thought, hmmm, at least it's going for something interesting. Nobody gets shot in a bathroom as they charge at someone with a knife. Nobody boils any bunnies. The photography is rich and textured for something so obviously low-budget. It's also as serene and blank as it's main character, and I suppose, in a sense, that is accomplishment enough.
Glenn Gaylord
Super Reviewer
The Good Doctor Quotes
| | |
| --- | --- |
| Jimmy: | You know what I always thought would be the best part about being a doctor...? |
| Jimmy: | The ladies love a Doctor. |
| Jimmy: | The ladies love a doctor. |
| | |
| --- | --- |
| Martin Blake: | I never meant it to happen... it just got out of control. |