The Good, the Bad and the Ugly
(1966)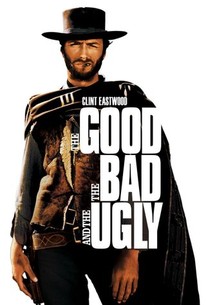 TOMATOMETER
AUDIENCE SCORE
Critic Consensus: Arguably the greatest of the spaghetti westerns, this epic features a compelling story, memorable performances, breathtaking landscapes, and a haunting score.
The Good, the Bad and the Ugly Photos
Movie Info
In the last and the best installment of his so-called "Dollars" trilogy of Sergio Leone-directed "spaghetti westerns," Clint Eastwood reprised the role of a taciturn, enigmatic loner. Here he searches for a cache of stolen gold against rivals the Bad (Lee Van Cleef), a ruthless bounty hunter, and the Ugly (Eli Wallach), a Mexican bandit. Though dubbed "the Good," Eastwood's character is not much better than his opponents -- he is just smarter and shoots faster. The film's title reveals its ironic attitude toward the canonized heroes of the classical western. "The real West was the world of violence, fear, and brutal instincts," claimed Leone. "In pursuit of profit there is no such thing as good and evil, generosity or deviousness; everything depends on chance, and not the best wins but the luckiest." Immensely entertaining and beautifully shot in Techniscope by Tonino Delli Colli, the movie is a virtually definitive "spaghetti western," rivaled only by Leone's own Once Upon a Time in the West (1968). The main musical theme by Ennio Morricone hit #1 on the British pop charts. Originally released in Italy at 177 minutes, the movie was later cut for its international release. ~ Yuri German, Rovi
News & Interviews for The Good, the Bad and the Ugly
Critic Reviews for The Good, the Bad and the Ugly
Audience Reviews for The Good, the Bad and the Ugly
One of the best films I ever saw!. Fresh.
Lucas Martins
Super Reviewer
Leone reaches the level of absolute perfection in this third film of his Dollar Trilogy, a magnificent Spaghetti Western - arguably the best of them all - that features fantastic performances, an unforgettable score and a sublime, breathtaking cinematography.
Carlos Magalhães
Super Reviewer
Three outlaws pursue a cache of gold hidden in a grave. While canonical, this film is oddly structured with its inciting incident pushed to an hour and fifteen minutes into its three-hour run time. What the film is saying about goodness (or ugliness or badness) is unclear as the "good" is just as bad as the "ugly," but I can imagine that it's attempting to show that morality is more contextual than absolute, creating, as it does, an environment in which everybody is immoral even the Union and Confederate troops, who seem to be passing through this film on their way to another. Beautifully shot and operatic in scope, the filmmaking is remarkable even if the story-telling is perplexing. Overall, this classic western isn't bad or good or ugly, just moderately interesting.
Jim Hunter
Super Reviewer
The Good, the Bad and the Ugly Quotes
| | |
| --- | --- |
| Tuco the Ugly: | If you work for a living, why do you kill yourself working? |
| | |
| --- | --- |
| Tuco the Ugly: | There are two kinds of spurs, my friend. Those that come in by the door; those that come in by the window. |
| | |
| --- | --- |
| Tuco the Ugly: | If you save your breath I feel a man like you can manage it. And if you don't manage it, you'll die. Only slowly, very slowly old friend. |