The Gorgon
(1965)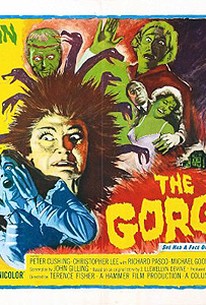 Movie Info
When a professor is mysteriously killed by a legendary Gorgon in an Austrian town, it is up to his son Paul (Richard Pasco) and Professor Meister (Christopher Lee), to discover the cause of his death. While the local townsfolk refuse to talk, Paul struggles to discover the true identity of the deadly creature.
News & Interviews for The Gorgon
Critic Reviews for The Gorgon
Audience Reviews for The Gorgon
½
This is in my opinion, one of the classic 'Hammer' films. Almost the entire film takes place at night on full moons, which gives the film an added frisson of suspense. In 1905, somewhere in Europe Megara (one of the three gorgons from Greek mythology) is terrorising a village by picking off the locals on the night of the full moon and turning them to stone. Peter Cushing plays the local Doctor, who covers up these supernatural deaths by issuing false death certificates. The Chief of Police (Patrick Troughton) motivated by fear is also covering up the truth. After two of his friends are petrified Christopher Lee turns up to investigate, and its finally by his hand(in the manner of Perseus)that Megara is beheaded. For anyone who's a fan of 'Hammer' films or who likes a well made horror film without the buckets of blood that modern horror films are drenched in, this one's for you! 4 1/2 Stars 7-24-13
Bruce Bruce
Super Reviewer
Recently re-watched this one - after dismissing it as tosh for many years. It's now become of of my favourite of all films from Hammer. The reveal itself is still disappointing in its rubbery cheapness but it makes up for this by being an incredibly atmospheric and creepy film. Production-wise, it really is the quintessential Hammer film. Terence Fisher directing Peter Cushing, Barbara Shelley and Christopher Lee (their performances range from laconic to bored and bemused but no matter). Thrillingly scored by the studio's most instantly recognizable James Bernard who, along with cinematographer Michael Reed (who did such a fine job on Dracula: Prince of Darkness) are responsible for much of the film's gothic fairy tale feel. Love it!
William Sleet
Super Reviewer
This movie is typical and dull, even though I was surprised to see Christopher Lee not playing the monster in this. Other than that, this movie is predictable and boring. The actors try, but sometimes they look bored too. Overall an okay movie.
The Gorgon Quotes
There are no approved quotes yet for this movie.