The Grandmaster
(2013)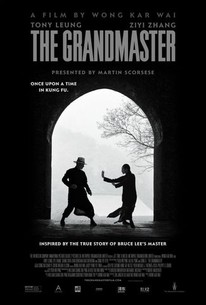 TOMATOMETER
AUDIENCE SCORE
Critic Consensus: Though its storytelling is a tad muddled, Wong Kar Wai's The Grandmaster still exhibits the auteur's stylistic flourishes in gorgeous cinematography and explosive action set pieces.
Movie Info
Directed by acclaimed filmmaker Wong Kar Wai, THE GRANDMASTER is an epic action feature inspired by the life and times of the legendary kung fu master, Ip Man. The story spans the tumultuous Republican era that followed the fall of China's last dynasty, a time of chaos, division and war that was also the golden age of Chinese martial arts. Filmed in a range of stunning locations that include the snow-swept landscapes of Northeast China and the subtropical South, THE GRANDMASTER features virtuoso performances by some of the greatest stars of contemporary Asian cinema, including Tony Leung and Ziyi Zhang.(c) Weinstein
Critic Reviews for The Grandmaster
Audience Reviews for The Grandmaster
Wong Kar-Wai seems only concerned about his irritating aesthetics in this hugely unfocused mess that even includes a useless narration and inexplicably irrelevant characters like The Razor - not to mention the use of a theme from Once Upon a Time in America for no clear reason.
Carlos Magalhães
Super Reviewer
The cinematography, no matter what the screenplay is like, how the acting is, or even if the direction was awful, really sold me on this film. Everything technical needs to be praised before any negativity, because this films' visuals will blow your mind. I could not look away from the screen at any moment during the fight sequences, because the choreography and camera work was so beautiful and deserves it's Oscar nomination. Now on to the story. It is a very well-told and well-paced screenplay, but the film is a lot of style, and seems like it overshadows everything. To me, it took me out of the film's messages a bit, but that is always why it has it's nomination, so it's a bit of a tug of war. The acting is very good and the direction is not bad, although it seems he left it up to the cinematographer to plan the action sequences for him. At it's core, this film centers the Ip Man, who would move onto his later years after this film, to be Bruce Lee's trainer. I will definitely recommend this film to people who enjoy true stories or martial arts, but I think that is as far as it will reach. I really enjoyed watching this film though!
the storytelling was disjointed, the locations limited, and the characters were dull and underdeveloped. this film suffered from a lack of awareness of time and environment. however it was saved by some stunning fight sequences and solid performances. overall, solid watching but missed a chance to be great.