The Great Flamarion
(1945)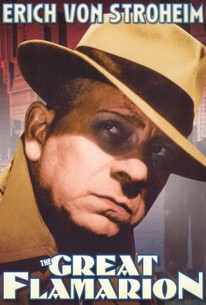 AUDIENCE SCORE
Critic Consensus: No consensus yet.
The Great Flamarion Photos
Movie Info
Erich von Stroheim commands the screen as a vaudeville sharpshooter who hates women but falls in love with his beautiful assistant--who manipulates his affections so she can get him to murder her husband.
Critic Reviews for The Great Flamarion
All Critics (4) | Top Critics (1) | Fresh (4) | Rotten (0)
It's Mann's film, but Stroheim's performance, character, and story are so powerful and so exemplary that his very presence in a movie makes it his own-a reflection of his life as well as of his art, on both sides of the camera.
[T]he film stands out for its pessimistic view of sex and its willingness to admit that our impulses sometimes ask us to act against our better judgments.
Fun to watch as Von Stroheim goes through the drill of being the wronged man who seeks revenge for being trifled with.
Audience Reviews for The Great Flamarion
Erich Von Stroheim totally inhabits the skin of a soul so burned out inside that everyday survival is an pure act of will, and he's making it until he gives in - out of loneliness deep like an ocean - to the kiss of the spider woman. Dan Duryea and Mary Hughes convincingly play the needy people who's pain gets him to leave his fortress of solitude and down to his ruin.
Kevin M. Williams
Super Reviewer
This is from the Mill Creek Mystery Classics 100 Movie Pack. This is a decent little movie with a really nasty woman. She is really quite beautiful, and in the Blue Angel tradition, makes a man twice her age and not all that attractive, fall for her. There's no fool like an old fool and you don't mess with Von Stroheim. I wasn't aware that the great actor/director made some pretty weak films over the years. This one survives pretty well. Von Stroheim plays Flamarion, a trick shot artist, who is in great demand. He gets into the business of an alcoholic and his cheating wife. She uses him, changes him, and then he wants revenge. The story is told by Flamarion as another vaudeville performer holds him in his arms as he dies. It is told in flashback. I have to admit knowing that things had no possibility of working out, yet because of the interesting nature of the characters, particularly the young woman (who is beautiful, even by modern standards). Those of us who have had those yearnings to be young again and have a second chance can easily sympathize as this man makes mistake after mistake; loving too much; trusting too much. I was fairly impressed by the movie, 3 Stars, 6-17-13
Bruce Bruce
Super Reviewer
The Great Flamarion Quotes
There are no approved quotes yet for this movie.