The Great Gatsby
(2013)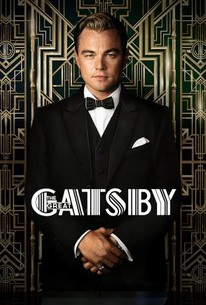 TOMATOMETER
AUDIENCE SCORE
Critic Consensus: While certainly ambitious -- and every bit as visually dazzling as one might expect -- Baz Luhrmann's The Great Gatsby emphasizes visual splendor at the expense of its source material's vibrant heart.
Movie Info
"The Great Gatsby" follows Fitzgerald-like, would-be writer Nick Carraway (Tobey Maguire) as he leaves the Midwest and comes to New York City in the spring of 1922, an era of loosening morals, glittering jazz, bootleg kings, and sky-rocketing stocks. Chasing his own American Dream, Nick lands next door to a mysterious, party-giving millionaire, Jay Gatsby (Leonardo DiCaprio), and across the bay from his cousin, Daisy (Carey Mulligan), and her philandering, blue-blooded husband, Tom Buchanan (Joel Edgerton). It is thus that Nick is drawn into the captivating world of the super rich, their illusions, loves and deceits. As Nick bears witness, within and without of the world he inhabits, he pens a tale of impossible love, incorruptible dreams and high-octane tragedy, and holds a mirror to our own modern times and struggles. -- (C) WB
Critic Reviews for The Great Gatsby
Audience Reviews for The Great Gatsby
Visually stunning, as expected with Luhrmann, to the degree of a somewhat artificial look. That works for this film, though and makes for a very unique atmosphere. Thankfully, the interesting characters and their actors are not held back by all the pomp, although the film does remain somewhat superficial compared to the novel. But especially the end is really well delivered.
½
A very faithful adaptation that, with all its glamorous costume and production design, overstylized visuals and anachronistic music that only add to it, proves to be a surprisingly riveting experience and lives up to the good novel that inspired it.
Carlos Magalhães
Super Reviewer
½
It would be cheeky of me if I wasn't forthright in saying that most of Baz Luhrmann's films have put me off. I understand his technique and I appreciate his craft, but the actual films are often too quick with their cuts, too nauseating with their one-note characters, and too over-the-top, period. Yet all of those attributes work very well for a true adaptation of "The Great Gatsby." Not only does it show the opulence of the time period, and the excess of Gatsby's lifestyle, but the drama of the love story between Gatsby and Daisy. Luhrmann is a wizard at turning visually crazed love stories into grand tragedies, and there's no better story than this literary powerhouse. While the backdrops are impossibly cloying, as they are CGI, the rest of the film, from modern soundtrack to big as life performances, feels as emotionally spectacular and huge as the original text. For what it was trying to do and for what it showed, Luhrmann easily succeeded and adapted this poignant love story.
Spencer S.
Super Reviewer
The Great Gatsby Quotes
| | |
| --- | --- |
| Jay Gatsby: | I knew that when I kissed this girl I would be forever wed to her. So I stopped. I stopped and I waited. I waited for a moment longer. Then I just let myself go. |
| | |
| --- | --- |
| Myrtle Wilson: | I knew that when I kissed this girl I would be forever wed to her... So I stopped. I stopped and I waited. I waited for a moment longer. Then I just let myself go. |
| | |
| --- | --- |
| Jay Gatsby: | like old sport having you ever seem it before its all a custom job super charge engine. |
| | |
| --- | --- |
| Nick Carraway: | They were careless people, Tom and Daisy. They smashed up things and people, and then retreated back into their money and their vast carelessness. |