The Great Love
(2012)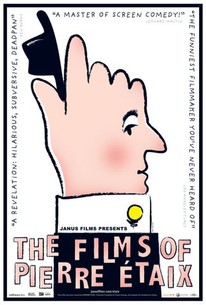 Movie Info
A young man nervously waits in a church on his wedding day. His daydream splashes time forward 10 years as he finds himself married and working for his father-in-law. He has a brief but profound affair with a new secretary before returning to his wife. His nocturnal dreams have his bed taking off like an automobile cruising to exotic locales with beautiful women. He passes other men in beds on their way to destinations they will only reach in their dreams. His wife expresses a desire for a vacation and her bed turns into a train in this film that relies heavily on symbolism. ~ Dan Pavlides, Rovi
Critic Reviews for The Great Love
Audience Reviews for The Great Love
The attempt to cast French actor/writer/director Pierre Etaix as an unsung master of physical comedy is not misguided -- he really does have some marvelous gags, choreographed with beautifully paced precision. However, in "Le Grand Amour," his efforts are wasted on a tired, sexist premise. Etaix plays a successful businessman who has been married for 10 years to an average woman who lacks dazzle. And his mother-in-law is much worse. When his new secretary turns out to be a 18-year-old beauty, he falls in love at first sight and immediately considers leaving his wife for her. Does he have any chemistry with the girl? No. Do her own feelings matter? No. She's his for the asking. Apparently. If you can get past the story's oh-so-French chauvinism, there are some delightful laughs and at least two brilliant set pieces: one, a fantasy in which Etaix imagines driving his bed around the countryside with the girl by his side and, two, a bitter sequence in which he uses a room of items cut in half (even a piano) to show his wife what would happen if she left him and demanded half of his assets.
Eric Broome
Super Reviewer
The Great Love Quotes
There are no approved quotes yet for this movie.