The Great Silence (Il grande silenzio)
(1968)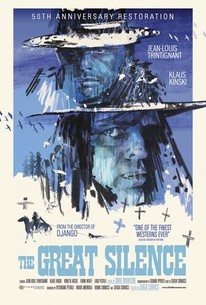 The Great Silence (Il grande silenzio) Photos
Movie Info
Italian filmmaker Sergio Corbucci directed this serious-minded populist spin on the spaghetti western, starring Jean-Louis Trintignant as Silence, whose vocal cords have been slashed by sadistic bounty-hunters. Silence joins with local hillfolk in fighting the corrupt and tyrannical authorities in the town of Snow Mill. Corbucci's sympathies are clearly with his bandit heroes, who are only doing what they must to survive, while the law is represented by a corrupt sheriff, who lets his wealthy patrons run wild, and sadistic scum like Klaus Kinski, who kills the poor because he enjoys it. Politically charged in a way that only a film of its time could be, Il Grande Silenzio's themes of class struggle and violent revolution were a bit too hot for an American release in 1968. Vonetta McGee co-starred with genre regulars Frank Wolff, Luigi Pistilli, and Raf Baldassare.
Critic Reviews for The Great Silence (Il grande silenzio)
Audience Reviews for The Great Silence (Il grande silenzio)
½
I'm no expert on the genre of Spaghetti Westerns, but this ranks, I feel, as an excellent example. The cinematography is absolutely brilliant-bleak, stark, and quite stunning- a true visual delight. Jean Louis Trintignant and Klaus Kinski are superb in their respective roles of a mute gunfighter who stands up for what's right and the sadistic bounty hunter he goes up against. Another highlight to the film is Ennio Morricone's score. It's not as good as the scores he did for Sergio Leone's Spaghetti Westerns, but it's still pretty awesome. I liked how the film didn't pull punches with the content, especially the ending, and give it props for having an interracial love scene in an era where that was still something very uncommon and bold. All in all, this is a very off-beat and different film, even for a Spaghetti Western. Go check it out.
Chris Weber
Super Reviewer
½
Certainly the most bleak spaghetti western. If you think about it, that is saying a lot.
The beauty of Il Grande Silenzio is that it tells such a dark tale in the most straighfoward manner possible. It forgets about the western myths and goes for the crude aspects of this world. Silenzio is not a hero, just a man defending himself, Loco is not a cartoonish "bad guy", just somebody doing his job. With bountys over the heads of poor people trying to survive private property becomes more valuable than human beings. When the ending arrives it never feels forced or out of logic. It was the only way in which this story could be finished. There are no heroes here, just another pile of nameless corpses, and somebody with more money in the pocket.
Tsubaki Sanjuro
Super Reviewer
The Great Silence (Il grande silenzio) Quotes
There are no approved quotes yet for this movie.