The Grey Zone
(2002)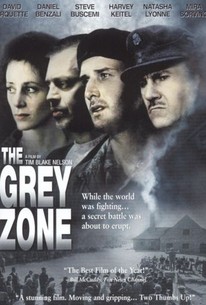 Movie Info
The story of five prisoners in the Auschwitz concentration camp as told through the memoirs of Dr. Miklos Nyiszil, a Hungarian Jew chosen by Josef Mengele to be the head pathologist at Auschwitz.
News & Interviews for The Grey Zone
Critic Reviews for The Grey Zone
Audience Reviews for The Grey Zone
½
I'm sorry, but I have a real hard time watching movies that are based in other countries, and the people do not even have accents. The guards did, but not the prisoners. It was as if they all were American prisoners. I have seen soooo many outstanding Holocaust films. This one not included...
Cynthia S.
Super Reviewer
½
Based on a play based on a book, this is Tim Blake Nelson's harrowing look at the innerworkings of moral issues within a concentration camp. The story is focused on a group of Hungarian Jews in Auschwitz who are tasked with cleaning out the ashes of their dead comrades from the crematoriums. When they realize they are next on the list to die, they decided to have an uprising. This is some very hard stuff to watch, but it is also phenomenally amazing. It finds the right note between exploitative and overly emotional sentimentality, and despite being something hard to watch, it's also very hard to look away. The films boasts a talented cast who all give some really good performances. Well, okay, Keitel's accent is a bit iffy, but he's great at being a really cruel antagonist. David Arquette is surprisingly really good in a dramatic lead role, and it's nice seeing him step away from comedy once in a while. Other supporting roles are filled by the likes of Natasha Lyonne, Mira Sorvino, and Steve Buscemi among others. It's up there with Schindler's List and The Pianist as some of the best films about the Holocaust, and the direction is hauntingly effective. This isn't an uplifting film as you might have guessed, but it does really give you a lot to think about, mostly because of the issues it raises. Give this one a watch. It's something quite special.
Chris Weber
Super Reviewer
½
A group of Hungarian jews who work in a death camp plan an uprising to destroy the crematorium when it becomes clear that they are next on the death list. Based upon an eye witness account, The Grey Zone is a harrowing story of life in a concentration camp where all human morality is abandoned in the attempt to stay alive. The characters are all regular people who are forced to choose between collaboration and death and in turn have to live with the consequences of their actions and it makes you wonder what you would do if you were in the same position. Great performances all round (Harvey Keitel's Hogan's Heroes accent notwithstanding) make for an intelligent and affecting story that maybe is not on a level with Schindler's List or Downfall, but it's still a powerful and thought provoking film about what happens when human life loses all value. Grim but in good way.
The Grey Zone Quotes
There are no approved quotes yet for this movie.