The Grinch
(2018)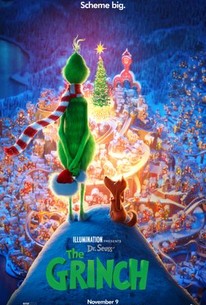 TOMATOMETER
AUDIENCE SCORE
Critic Consensus: The Grinch gives the classic Seuss source material a brightly animated update that's solidly suitable for younger viewers without adding substantially to the story's legacy.
Movie Info
Each year at Christmas they disrupt his tranquil solitude with their increasingly bigger, brighter and louder celebrations. When the Whos declare they are going to make Christmas three times bigger this year, the Grinch realizes there is only one way for him to gain some peace and quiet: he must steal Christmas. To do so, he decides he will pose as Santa Claus on Christmas Eve, even going so far as to trap a lackadaisical misfit reindeer to pull his sleigh. Meanwhile, down in Who-ville, Cindy-Lou Who-a young girl overflowing with holiday cheer-plots with her gang of friends to trap Santa Claus as he makes his Christmas Eve rounds so that she can thank him for help for her overworked single mother. As Christmas approaches, however, her good-natured scheme threatens to collide with the Grinch's more nefarious one. Will Cindy-Lou achieve her goal of finally meeting Santa Claus? Will the Grinch succeed in silencing the Whos' holiday cheer once and for all?
News & Interviews for The Grinch
Critic Reviews for The Grinch
Audience Reviews for The Grinch
½
The Grinch is the usual formulaic animation feature for the holiday season that is family friendly and keeps the kids glued with its sweet and colourful story telling. Definitely can't go wrong with this one.
Chrisanne Chin
Super Reviewer
½
Dr. Seuss' How the Grinch Stole Christmas is once again adapted for the big-screen, this time as Dr. Seuss' The Grinch, and once again fails to recapture the spirit and magic of the original. The story follows the curmudgeonly Grinch who lives alone in the mountains and avoids Christmas, but his annoyance with Christmas soon turns to anger when the Whos triple their festivities. The film goes to great lengths to set itself apart from previous versions, including changing Seuss' limericks; which is unfortunate as the new ones aren't as charming and poetic. And the filler subplot about Cindy Lou Who is incredibly formulaic and predictable. Also, the soundtrack is rather garish, featuring a lot of pop-music. Dr. Seuss' The Grinch is an improvement over the live-action version, but it has a number of its own problems.
Dann Michalski
Super Reviewer
The second go at a twenty-first century feature-length Grinch movie is a thoroughly, spectacularly bland movie. This mediocre enterprise barely stretches to feature length at 86 minutes and it lacks the charm of the original Dr. Seuss cartoon. Benedict Cumberbatch voices the green recluse with his three-sizes-too-small heart set on stealing the Christmas celebration of others. That's great casting, but why is he settling for his Doctor Strange-style American voice? The man has such a natural, rich, velvety voice. Another miscue is the fact that this Grinch isn't really feared by the people of Whoville. He lives just outside of ton and isn't really that mean. He's less a villain and more just a grumpy sad guy who has to over explain everything for the audience to understand ("I thought stealing Christmas would make me feel better, but really I was running from myself..."). This movie is brightly colored and nicely animated but it's strictly just for little kids. The lessons are pretty simplistic. The characters are mostly annoying, precocious, or mute. The humor is mostly slapstick. There is nothing to engage bigger thinkers. This Grinch movie actually made me start re-evaluating the 2000 Ron Howard version, which at least tried something and had an enjoyably hammy Jim Carrey performance with some creepy good makeup prosthetics, and I didn't even like that movie. The new animated Grinch film is inoffensively lackluster. At best it's a disposable 90 minutes to distract easily distractible children and give mom and dad time for a nap. Nate's Grade: C
Nate Zoebl
Super Reviewer
The Grinch Quotes
There are no approved quotes yet for this movie.