The Grudge
(2004)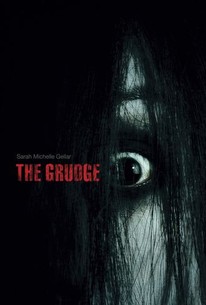 Movie Info
Karen is an exchange student studying social work in Japan who innocently agrees to cover for a nurse who didn't show up for work. When she enters the assigned home, she discovers an elderly American woman, Emma, who is lost in a catatonic state while the rest of the house appears deserted and disheveled. As she is tending to the stricken old woman, Karen hears scratching sounds from upstairs. When she investigates, she is faced with a supernatural horror more frightening than she could ever imagine. Within this house, a chain of terror has been set in motion resulting from a terrifying evil that was born years before. As more people die, Karen is pulled into the cycle of horror and learns the secret of the vengeful curse that has taken root in this house. Now she must stop it before it's too late.
News & Interviews for The Grudge
Critic Reviews for The Grudge
Audience Reviews for The Grudge
½
A haunted house exists. You go in it, you die. That's the premise of The Grudge. Now watch all the characters who went inside get killed in between long passages of pointless dialogue and nothing happening. If the image of a long haired girl in a nightgown creeps you out, this may work on you. I was just bored.
Edward Boxler
Super Reviewer
"The Grudge" is a creep-fest that doesn't make a whole lot of sense. It's not that the movie is complex, the opposite is true. It just takes a pedestrian ghost story involving vengeance and anger and surrounds it with jolts and more jolts. Takashi Shimizu doesn't seem concerned with originality or substance as long as he can make creepy ghosts jarringly jump out at characters. While this is scary at times after a while you just stop caring. Sarah Michelle Gellar does the best she can with a thin role that requires her to just skulk around, look scared and ask questions. And when the answers come they prove to be unsurprisingly and unoriginal. "The Grudge" is forgettable and mindless.
Tony Gandía
Super Reviewer
½
A terrifying concept executed poorly. Only brings a few scares, but due to the lack of story nothing leaves a lasting impact. The flashbacks are annoying as fuck. It's a tough film to get involved with and the ending blows.
Eric Shankle
Super Reviewer
The Grudge Quotes
| | |
| --- | --- |
| Toshio: | the girl: "what's your name?" toshio: ".... TO-SHI-OH ..... " (scary staring face) |
| Daughter: | What's your name? |
| Toshio: | TO-SHI-OH. [scary staring face] |
| | |
| --- | --- |
| Karen: | The whole time I was in that house I felt something was wrong. What happened there? |
| | |
| --- | --- |
| Toshio: | actually the face of that child is like a real ghost |