The Guardian
(2006)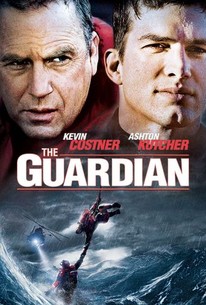 TOMATOMETER
AUDIENCE SCORE
Critic Consensus: The Coast Guard gets its chance for a heroic movie tribute, but The Guardian does it no justice, borrowing cliche after cliche from other (and better) military branch movies.
Movie Info
After losing his crew in a fatal crash, legendary Rescue Swimmer, Ben Randall, is sent to teach at 'A' School, an elite training program for Coast Guard Rescue Swimmers. Wrestling with the loss of his crew members, he throws himself into teaching, turning the program upside down with his unorthodox training methods. While there, he encounters a young, cocky swim champ, Jake Fischer, who is driven to be the best. During training, Randall helps mold Jake's character, combining his raw talent with the heart and dedication required of a Rescue Swimmer. Upon graduation, Jake follows Randall to Kodiak, Alaska, where they face the inherent dangers of the Bering Sea. In his initial solo rescue, Jake learns firsthand from Randall, the true meaning of heroism and sacrifice, echoing the Swimmer's motto...'So Others May Live!'
Critic Reviews for The Guardian
Audience Reviews for The Guardian
It was a long film but I felt they didn't really show anything. There was no strong story line here, just two characters who have been through bad times trying to come out of it. It was very predictable and I just did not care what happened to them. It was sad thinking of what they had been through but there's not much here to care about.
Sophie Burgess
Super Reviewer
A stirring, exciting, thrilling and exhilarating movie. A spectacular and edge of your seat action-packed drama. Great rescue/action sequences that are just plain gripping. It's a remarkable, riveting and satisfying film. Ashton Kutcher and Kevin Costner deliver powerful and awesome performances. Brilliant, sure-fire, high-octane entertainment. An amazing non-stop joyride. A pure explosive, pulse-pounding and relentlessly exciting thrill-machine. A truly great film. It's Top Gun for a new generation.
½
Andrew Davis was a solid director in the early 90's with Under Siege and The Fugitive, clearly doesn't have the steam or cream anymore. Would have been better with different lead actors. Can't stop thinking about Waterworld or Dances with Wolves when I look at Costner, and Kutcher is fumblin' bumblin' biatch.
Lenny Muggsy
Super Reviewer
The Guardian Quotes
| | |
| --- | --- |
| Capt. William Hadley: | There is a legend of a man who lives beneath the sea. He is a fisher of men, the last hope of all those who have been left behind. Many survivors claim to have felt his gripping hands beneath them; pushing them up to the surface; whispering strength until help could arrive. But this, of course, is only a legend. |