The Guilt Trip
(2012)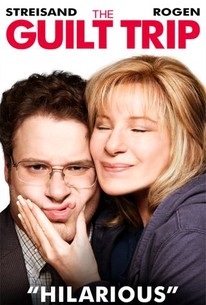 TOMATOMETER
AUDIENCE SCORE
Critic Consensus: Seth Rogen and Barbra Streisand have enough chemistry to drive a solidly assembled comedy; unfortunately, The Guilt Trip has a lemon of a script and is perilously low on comedic fuel.
Movie Info
An inventor and his mom hit the road together so he can sell his latest invention.
News & Interviews for The Guilt Trip
Critic Reviews for The Guilt Trip
Audience Reviews for The Guilt Trip
Amazingly this film is based on a real life experience which one of the writers had with his own mother on a road trip. Whether this actually makes the film any more interesting is up to you, personally for me it doesn't but the whole idea is very relatable. My first thought was...my God! has someone actually seen me and my own mother out together one day and thought the embarrassing scenario would make a good comedy?. But in all honesty I'm sure there are many many people who could say the exact same thing. The plot is simple, in fact its 'Planes Trains and Automobiles' just slightly altered, there's even a steak eating contest sequence. 'Brewster' and his very overbearing mother love each other but like all young adults and their parents there is friction. In this very sappy yet heart warming tale Seth Rogen's character takes his mother on a long road trip across the US from the East coast to Vegas and finally San Francisco for another small separate sub plot. Why? because he's trying to sell his new environmentally friendly cleaning product...annnd that's it in a nutshell. In all honesty this film is very sweet and very weepy but ultimately its also very cliched and unoriginal.  Streisand is clearly the best thing about the film with her typical Jewish mother routine. Always trying to feed Rogen's character, always asking if he's warm enough, always telling him to be careful and generally being nosy, awkwardly embarrassing and annoying at just the wrong times just like all mothers can be. The plot is really really thin and offers little chances for fun apart from the obvious odd moment before a sales pitch. In general the start of the film is probably the best, as Rogen gets off his flight and meets Streisand at the airport, that sequence made me laugh, at that point I'm thinking this could be a winner. But the whole thing is pretty daft, would you really drive across the US to make sales? surely the gas would cost a fortune? maybe not I dunno. Also the whole sub plot bit about Streisand's character trying to meet up with this guy she dated waaaay back before she had her child (Rogen's character), is ridiculous. She is hinging on the fact this guy would remember her and somehow want to get back together! after about...I dunno, 30-40 years or so! as if!. They only had a fling, if that, this idea felt really stretched. The film wants to be funny, its so clearly wants to be the next big hilarious comedy, but it falls well well short. There are some easy opportunities for great comedy, both Rogen and Streisand being cooped up together for the whole trip in this tiny compact city car. Its yearning for some brilliant visual moments but they just don't come, even when they both go into a strip club, you're watching and waiting for the obvious embarrassing belly laughs...but no, still nothing. Its a shame because its heart is in the right place and the premise is a good one (if completely over used), there's just very little to laugh at here. The film runs out of comedy fuel well before the end credits I'm afraid, but the chances were there.
Phil Hubbs
Super Reviewer
Joyce Brewster: Don't you see Andy? It was always you. You're the love of my life baby. "Get Ready For One Mother Of A Road Trip" I didn't expect anything much from The Guilt Trip, but I never expected as lousy a movie as I got. You'd think Streisand and Rogen as a mother and son combo would make the movie go down easier, but the awful and extremely cliche writing makes that impossible. In the end, this is one of the worst comedies I've seen in awhile. The jokes don't really ever work, and the two or three times they actually do, the payoff results in just a little chuckle.  Andy is a scientist who has a new invention he is attempting to sell to major corporate retail chains. When he goes and visits his mother for a weekend before he goes on a week long, cross country road trip for several meetings; things change when he asks his mother to come along. From there, there's the usual road trip problems and mother, son quarrels. It's all quite bland and lifeless.  The Guilt Trip is definitely one to pass on and that's coming from someone who is a big fan of Seth Rogen. This comedy is weak from start to finish however, and about twenty minutes in, I realized, I already didn't care about any of the characters or what was to happen later in the movie. It ended up just being a big waste of time.
Melvin White
Super Reviewer
I thought that this movie was sweet....maybe it helps that I have always been a Barbra Streisand fan. Pairing her with Rogen was a good match, and together they manage a touching portrayal of a mother-son relationship. Their road trip together was delightful, and the storyline was enjoyable.
Cynthia S.
Super Reviewer
The Guilt Trip Quotes
| | |
| --- | --- |
| Joyce Brewster: | I want the salad dressin' on the side... it's a weight watchers thing. |
| | |
| --- | --- |
| Joyce Brewster: | If all the kids in the world were lined up and I was to pick one kid for myself Andy, it will always be you. |
| Andy Brewster: | I wouldn't let you pick anyone else mom. |
| | |
| --- | --- |
| Joyce Brewster: | Don't you see Andy? It was always you. You're the love of my life baby |
| Joyce Brewster: | Don't you see Andy? It was always you. You're the love of my life baby. |
| | |
| --- | --- |
| Joyce Brewster: | You ungrateful little shit |
| Joyce Brewster: | You ungrateful little shit. |