The Handmaiden (Ah-ga-ssi)
(2016)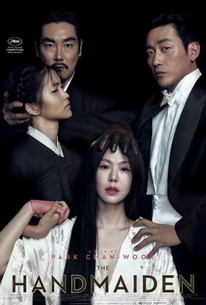 TOMATOMETER
AUDIENCE SCORE
Critic Consensus: The Handmaiden uses a Victorian crime novel as the loose inspiration for another visually sumptuous and absorbingly idiosyncratic outing from director Park Chan-wook.
The Handmaiden (Ah-ga-ssi) Videos
The Handmaiden (Ah-ga-ssi) Photos
Movie Info
From PARK Chan-wook, the celebrated director of OLDBOY, LADY VENGEANCE, THIRST and STOKER, comes a ravishing new crime drama inspired by the novel 'FINGERSMITH' by British author Sarah Waters. Having transposed the story to 1930s-era colonial Korea and Japan, Park presents a gripping and sensual tale of a young Japanese Lady living on a secluded estate, and a Korean woman who is hired to serve as her new handmaiden, but who is secretly involved in a conman's plot to defraud her of her large inheritance. Powered by remarkable performances from KIM Min-hee (RIGHT NOW, WRONG THEN) as Lady Hideko, HA Jung-woo (THE CHASER) as the conman who calls himself the Count and sensational debut actress KIM Tae-ri as the maid Sookee, THE HANDMAIDEN borrows the most dynamic elements of its source material and combines it with PARK Chan-wook's singular vision and energy to create an unforgettable viewing experience.
Critic Reviews for The Handmaiden (Ah-ga-ssi)
Audience Reviews for The Handmaiden (Ah-ga-ssi)
½
Beautiful, Lurid, and unpredictable. A directorial powerhouse from Park.
Near faultless film, beautifully acted and photographed, not to mention fantastically edited, and as an adaptation of The Fingersmith it is truly inspired. Though it threatens to cross over into parody during some of the sex scenes it just manages to keep suspension of disbelief thanks to the humour in the script and performances. A dazzling treat; already I can see this being in my top 10 at years' end.
Daniel Parsons
Super Reviewer
½
I'm glad there's still a filmmaker at the talent level of director Park Chan-wook (Oldboy) dedicated to making genuine Gothic romance with style and reverence. The Handmaiden is a ravishing, enrapturing, and momentously engaging movie with dark delights, startling depths, palpable romance, simmering tension, and high-wire twists and turns that keep redefining the story. The absurdly talented filmmaker takes a novel set in Victorian England and adapts the setting to 1930s Korea during the time of Japanese occupation, a fascinating and little-known time period for a Western audience. A poor orphan Sook-Hee (Tae-ri Kim) is pressured into a scheme to trick the wealthy Lady Hideko (Min-hee Kim) into being admitted to an insane asylum, her family riches sold. From the opening minutes, The Handmaiden produces immersive drama that pushes the central characters into consistent conflict to achieve their varying goals. They're constantly at odds with one another and themselves. There's even tension between those who hold onto their Korean culture and those who adopt the culture of their oppressors, namely Lady Hideko's perverse and treacherous uncle. Sook-Hee grows an unexpected affection for her mistress, and this includes a burgeoning attraction that the movie communicates with serious sensuality. The passionate lesbian sex scenes are, if anything, a tad restrained from what I was expecting from Chan-wook, and they're definitely far more restrained and absent the male gaze than the still excellent Blue is the Warmest Color. I felt the same carnal desire the characters were discovering, a feat worth celebrating for still staying true tonally without veering into tawdry exploitation. More than the sex or the top-notch technical aspects, it was the characters that hooked me and refuse to relinquish. The deepening relationships and the subtle shifts of loyalty, perception, and desire make what is essentially a twisty and twisted chamber-play into world-class drama. You think it's one kind of movie, and then it flips the script, and then it does it again, each time opening wider this mysterious, dangerous, and invigorating world. My one quibble is that the final twenty minutes feels unnecessary and self-indulgent, Chan-wook finally scratching a few violent tendencies he had been keeping as veiled up to that point. The Handmaiden is a ridiculously entertaining movie that is handsomely mounted, wonderfully acted by its leading ladies, and a romance worth losing your self over. Plus, there's also the sex. Nate's Grade: A-
Nate Zoebl
Super Reviewer
The Handmaiden (Ah-ga-ssi) Quotes
There are no approved quotes yet for this movie.