The Hard Way
(1943)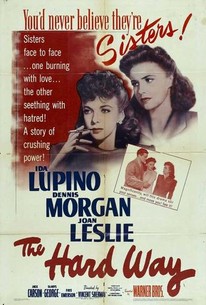 AUDIENCE SCORE
Critic Consensus: No consensus yet.
Movie Info
In this dark drama an iron-willed older sister forcibly thrusts her only modestly talented younger sister into a Broadway career. She does this to desperately try to keep her little sis from falling into the same small-town trap of marriage to a dull working-stiff and endless hours of taking care of babies and household drudgery. The bigger sister gets her chance when two handsome vaudevillians come to town. Seeing that one of the fellows eyes her younger sibling, the elder connives to get the two together. The scheme works and the smitten performer dumps his long-time partner in exchange for a career with his new love. That might have been hunky dory, but the ambitious big sister wants more for her sister and convinces her to become a solo act. So upset is the jilted partner that he commits suicide. Still the big sister refuses to stop pushing until finally the younger girl gets fed up and rebels in a bitter confrontation that only results in more tragedy.
Critic Reviews for The Hard Way
Audience Reviews for The Hard Way
Not quite as good as "The Man I Love" but Ida offers her usual superior performance, if a stronger actress with more musical talent than Joan Leslie, Judy Garland would have been ideal, had played the other sister this would have been a better film. Gladys George steals her too few scenes.
The Hard Way Quotes
There are no approved quotes yet for this movie.