The Harvest
(2015)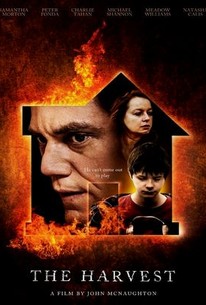 TOMATOMETER
AUDIENCE SCORE
Critic Consensus: The Harvest sows enough well-acted, slow-burning tension to satisfy, even if viewers expecting to reap all-out horror may come away wanting more.
Movie Info
In his first film in nearly fifteen years, the director of HENRY: THE PORTRAIT OF A SERIAL KILLER harks back to the depravity that made his 1986 debut a horror milestone. But less based in reality, THE HARVEST is closer to a fairy tale from Grimm's darkest corners. Maryann (an impressive Natasha Calis) moves in with her grandparents after she's orphaned. Desperately lonely, the preteen sets out to befriend a neighboring deathly ill, bed-ridden boy (Charlie Tahan), despite the outright disapproval of his mother (Samantha Morton). Maryann's persistence pays off, however, and during a series of secret visits she gradually uncovers some seriously sinister goings-on in the house... Morton as the boy's overprotective surgeon mom is the stuff of great screen villainy-at once utterly monstrous and tragically desperate-so much so that she makes even frequent heavy Michael Shannon, as the more subdued dad, pale in comparison. (C) IFC
News & Interviews for The Harvest
Critic Reviews for The Harvest
Audience Reviews for The Harvest
A young girl befriends an ill, bed-ridden boy, much to the chagrin of his over-protective parents. The first act of this film is boring, and the second and third acts fall into boring and predictable thriller genre traps that fail to thrill. The prodigious acting talents of Michael Shannon and Samantha Morton are criminally wasted on poorly conceived surface conflicts, and the child actors are equally uninspired. Overall, this is a poor effort from all involved.
Jim Hunter
Super Reviewer
Honestly, if it wasn't for the first half of this movie, which is a little bit plodding and features Disney-esque acting from the two teens, I'd have given this movie a higher rating. This isn't even what I'd call a horror movie per se. The last hour or so of the film, when the film really gets going and kicks it into next gear, is really fucking good. While there are some horrific things done, particularly when you think about how long this ordeal has actually being going on and the consequences of Richard's and Katherine's actions, but it's not like the film sets out to terrify you with scares or draw you into its story through the use of atmospheric visuals. It's a film that focuses on something that's infinitely more real than what horror films tend to do and that is the dedication some parents have to their children and the, sometimes, horrible things they'd do in order to ensure their child's survival. Samantha Morton and Michael Shannon, as is usual, give great performances and they're, honestly, the glue that holds the film together because, without them, the movie would not have been much. It's not that the film would've been bad or anything, but there's some weird scripting choices in the first half of the film. Parts of the first half play out like a really cheap Lifetime movie. And, honestly, the plot of the film does sound like something out of a Lifetime movie, though the execution is what keeps it from reaching that level. Like I said, Samantha and Michael do a great job at elevating formulaic material past what it would've been without them. The reason it works is because, while the film doesn't play into this at all, I can see how Richard and Katherine, particularly the latter, thought that they were doing a good thing for their son. And you can sort of see how Katherine's selfishness in wanting to keep her son alive got the best of her and how she's completely transformed into someone that her past self wouldn't even recognize. Again, the film doesn't show you this, but you can get a feeling of it from Samantha's performance. Of course, Richard is just as guilty as Katherine if only for the fact that he allowed this to go on for as long as it did, when he could've, very easily, put a stop to it. Again, this is all from Michael's and Samantha's performances, they do add that layer that the film probably lacked. Not to mention that it's something that many parents can relate to. Perhaps not go as far as these two did, but the idea that you'd do absolutely anything for your child. The cinematography is nothing special and the acting from the teens themselves, Andy and Maryann, isn't great. Though the actress who plays Maryann does have some good moments. This is a movie that definitely requires some patience, because it starts out slow enough and it sometimes comes across as cheap, but trust me that it turns into a damn good film when it does get going. The ending is really cheap-looking as well, like TV-movie quality, but it was something minor since the film was pretty much over by that point. Good movie, though there could've been some improvements made to some of the scripting during the first half. Solid Netflix watch.
Jesse Ortega
Super Reviewer
eerie film that flips the switch mid way through. Alot of circumstantial information discovery and a truly stupid ending takes the film away from the darkness of the story. They should have ended the film in the basement instead of the park. This was such a tacky ending for this film.
Brendan O'Connor
Super Reviewer
The Harvest Quotes
There are no approved quotes yet for this movie.