The Hateful Eight
(2015)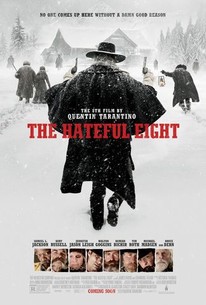 TOMATOMETER
AUDIENCE SCORE
Critic Consensus: The Hateful Eight offers another well-aimed round from Quentin Tarantino's signature blend of action, humor, and over-the-top violence -- all while demonstrating an even stronger grip on his filmmaking craft.
Movie Info
Set six or eight or twelve years after the Civil War, a stagecoach hurtles through the wintry Wyoming landscape. The passengers, bounty hunter John Ruth and his fugitive Daisy Domergue, race towards the town of Red Rock where Ruth, known in these parts as "The Hangman," will bring Domergue to justice. Along the road, they encounter two strangers: Major Marquis Warren, a black former union soldier turned infamous bounty hunter, and Chris Mannix, a southern renegade who claims to be the town's new Sheriff. Losing their lead on the blizzard, Ruth, Domergue, Warren and Mannix seek refuge at Minnie's Haberdashery, a stagecoach stopover on a mountain pass. When they arrive at Minnie's, they are greeted not by the proprietor but by four unfamiliar faces. Bob, who's taking care of Minnie's while she's visiting her mother, is holed up with Oswaldo Mobray, the hangman of Red Rock, cow-puncher Joe Gage (Madsen), and Confederate General Sanford Smithers. As the storm overtakes the mountainside stopover, our eight travelers come to learn they may not make it to Red Rock after all...
Critic Reviews for The Hateful Eight
Audience Reviews for The Hateful Eight
A bounty hunter, his charge, and other sundry characters are stuck in a cabin. About an hour and a half of this nearly three-hour film is absolutely useless; the film could've started in the cabin and lost nothing, yet there is a long sequence of getting to the cabin and an equally pointless flashback scene that only adds a character inconsistency (if the owner of the cabin is so racist against Mexicans, why doesn't she mention it in the flashback?). And there's a useless voice-over, stupid chapter breaks, dumb monologues, and just a bunch of shit. Tarantino jerks off to visually striking panoramas, and it's just adorable that he gets to play with his new 70 mm toy. Overall, see this film only to see the absolute nadir of a once-great director's career (unless you count Kill Bill Vol. 1, which might be worse).
Jim Hunter
Super Reviewer
Waste of 65 except for the establishing shots.
_kelly .King
Super Reviewer
How can anyone be so hateful with such a cinematically beautiful film? As one expects from a Tarantino film, "The Hateful Eight" is an over-the-top bloodbath, humorous in its depravity. However, it's mostly well-acted (ahem! Channing Tatum) with an engaging and unconventional mystery -- so hopefully one can excuse the Tarantinine excesses. It's good entertainment and purdy to look at, so I recon it's worth your while.
Christian C
Super Reviewer
The Hateful Eight Quotes
| | |
| --- | --- |
| Maj. Marquis Warren: | You believe in Jesus now, huh bitch? Well good. 'Cause you 'bout to meet him. |
| | |
| --- | --- |
| Chris Mannix: | Like I said, friend, you got me at a bit of a disadvantage! |
| John "The Hangman" Ruth: | Keeping you at a disadvantage is an advantage I intend to keep. |
| | |
| --- | --- |
| Chris Mannix: | [Before stepping into the coach, after John Ruth and Major Marquis Warren shake hands on protecting each other's bounties from him] Well, ain't love grand? Y'all wanna lie on the ground and make snow angels together? |
| Chris Mannix: | Well, ain't love grand? Y'all wanna lie on the ground and make snow angels together? |
| | |
| --- | --- |
| John "The Hangman" Ruth: | Yeah, Warren, that's the problem with old men. You can kick 'em down the stairs, and say it's an accident, but you can't just shoot 'em. |