The Haunted Airman
(2006)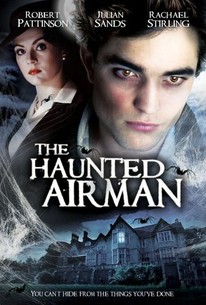 AUDIENCE SCORE
Critic Consensus: No consensus yet.
The Haunted Airman Photos
Movie Info
A wounded military aviator (Robert Pattinson) convalescing in a remote Wales mansion attempts to discern whether he's actually losing his mind or his psychiatrist is attempting to crack his fragile psyche. Shadowed by his darkened past and plagued with horrific visions, the airman clings to sanity as his reality becomes warped beyond recognition. ~ Jason Buchanan, Rovi
Critic Reviews for The Haunted Airman
All Critics (2) | Fresh (0) | Rotten (2)
...a hopelessly uninvolving piece of work that is unlikely to appeal to even the most ardent Pattinson fan...
The flick never proceeds beyond its initial inertia into any semblance of horror or suspense.
Audience Reviews for The Haunted Airman
An amateurishly made film with bland performances. It is most definitely a slow burner that likes to think its slow pace makes it look somewhat poetic in nature, but all it does is wear the viewer down until they give up and turn it off or just stop paying attention. This happened to me numerous times. There's not really any horror in the movie nor any compelling drama, just tiresome cliches about the psychology of a war veteran and the toll it takes on them. Don't be fooled into thinking this is worthy of your time just because known actors are in it. It most certainly is not, and even at a slim 70 minutes the movie is still too long. This would have been an alright 30 minute tv movie to show on Halloween, but stretched beyond all measure it simply doesn't make the cut.
Josh Lewis
Super Reviewer
Much too boring. I don't know what happened after the first 45 minutes or so, but I never found out.
Sarah Prisbylla
Super Reviewer
½
I have not read the book and therefore cannot comment on the accuracy of the film. This is the story of Toby Jugg, a RAF pilot who gets injured during a bomb raid and is sent to a convalescent home to rehabilitate himself mentally as well as receiving physical therapy from Sister Sally Grant played by Melissa Lloyd. She appears to be Toby's friend and confidante but all he wants is to be home with his beautiful aunt-in-law Julia (Rachel Stirling) who the viewer realizes almost immediately he is in love with. As time passes Toby comes to realize that all is not as it seems when a patients who seemed to be improving dies. Instead Dr. Hal Burns (Julian Sands) is keeping him isolated and not sending his letters to his Aunt nor passing her correspondence to him. His paranoia really kicks in as he begins to hallucinate hundreds of spiders/crows coming to get him. To top it all off he realizes that his lover, Julia, has turned against him and the only person he can trust is himself. This sets off a chain of events leading to a tragic but predictable ending. I just wasted 70 minutes of my time and still don't have a clue as to why he constantly saw spiders and who killed the other patient?
The Haunted Airman Quotes
There are no approved quotes yet for this movie.