The Haunted House of Horror, (Horror House)
(1970)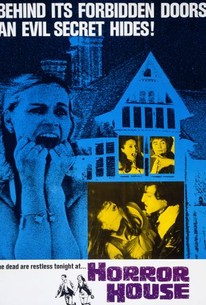 AUDIENCE SCORE
Critic Consensus: No consensus yet.
The Haunted House of Horror, (Horror House) Photos
Movie Info
The most horrifying part of this British spooker is seeing former clean-cut teen idol Frankie Avalon cast as Chris, a London hooligan who with his druggie friends decides to spend the night in a supposedly haunted house and hold a seance. The seance is a bust, so the buddies decide to do a little exploration and split up. Unfortunately, one of them gets brutally killed, leaving Chris and his surviving pals to wonder who did the deed. Was it one of them, or was it a monstrous demon? Not wanting to attract undue attention, the punks decide to hide the body, zip their lips, and split from the house. Unfortunately, the cops find out and begin questioning everyone, causing Chris and his friend to return to the house and look for clues. For poor Chris, it is a fatal mistake. Just for the record, though he plays a teen, Avalon was 30 years old when this film was made. In Britain the film was released as The Haunted House of Horror.
Critic Reviews for The Haunted House of Horror, (Horror House)
There are no critic reviews yet for The Haunted House of Horror, (Horror House). Keep checking Rotten Tomatoes for updates!
Audience Reviews for The Haunted House of Horror, (Horror House)
Frankie Avalon in a horror movie? You know it's going to be bad just by the cast! Okay, it's not all that horrible, Frankie gets killed, so there's something to look forward to. This movie is stupid but somewhat fun too.
What sounded like camp, spooky fun actually does start well - looking rather pretty in it's very dated 60s way - lots of boutiques, big hair'd skinny girls and even girlier (but not always) pretty boys. Granted the 'acting' is a bit laboured but we shouldn't expect too much from a Tigon production (they did give us 'Witchfinder General' and 'Blood on Satan's Claw' but it's not unkind to say they really were a poor cousin to Hammer and Amicus) But all hope is lost when you realise no-one bothered to make any effort at all - zero screenplay/plot/direction/logic! Lazy and pointless doesn't even cover it. The gist of the story beggars belief - their party gets boring so they decide to move on to an old derelict house that's reputed to be haunted (of course). A seance is suggested (it was either that or an orgy) - well they hold hands and stare at each other until a door creaks. They split up to investigate the noise (of course) when one of them is hacked to death. Much hysterics (by the girls) and face-slapping (by the girly boys) ensues. Instead of leaving the house and calling the police they decide to bury him and not tell anyone. For absolutely no reason at all! Except that one of them convinces the others that it has to be one of them that did the deed (of course!). So now it all makes sense?? Ahem... For the rest of the flic the players carry on bumping into each other as they wander aimlessly with no purpose beyond being hysterical or looking bored (poor Denis Price pops up sleepwalking in an utterly redundant part) until eventually Frankie Avalon gets stabbed in the cock (I kid you not) as the least scariest killer in the history of cinema is revealed, who is then stopped in his limp-wristed rampage when the lights go out - causing him to run off screaming into the night because he's terrified of the dark (excuse me!?!). I would have wondered here that maybe someone was overcompensating for an ambivalent audience, but instead I was already beginning to wonder what I just did with the last 90 minutes of my life... can I have it back please?
William Sleet
Super Reviewer
A bunch of groovy "teenagers" in swinging London contemplate having an orgy but instead opt for having a seance in a deserted mansion, only to find out that theres a manic killer on the loose. Oh, how I love these bad 60s horror films. This one was supposed to star none other than David Bowie and Scott Walker, but instead we have to make do with an aging Frankie Avalon and Richard "Man About the House" O'Sullivan amongst others.
The Haunted House of Horror, (Horror House) Quotes
There are no approved quotes yet for this movie.