The Haunting
(1999)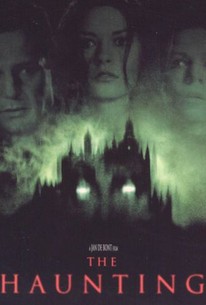 Movie Info
A remake of the classic 1963 movie "The Haunting" about a team of paranormal experts who look into strange occurrences in an ill-fated house. Through the course of the night some will unravel, some will question, and all will fight for their lives as the house fights back.
Critic Reviews for The Haunting
Audience Reviews for The Haunting
It's not the first one, that's true. It's a different take on a similar story. A certain scientist wants to do a study, an experiment. He gathers a team together and they meet at this mysterious mansion in upstate New York, all very similar to the first movie, an undeniable classic. But then the night comes. The dark ... and then ... and then, well, there are some chills here too. Different. But chills. In the night. In the dark.
Kevin M. Williams
Super Reviewer
½
Somewhat decent remake of the same name, The Haunting lacks the terrifying atmosphere of the original film, and instead relies more on special effects. The result is an entertaining film that isn't too memorable. The film is worth seeing, but compared to the original, it doesn't even come close. The film is what I'd call a decent popcorn horror flick. The film isn't memorable in anyways, but it does manage to be a mindless fun horror flick But like every other remake, this film suffers limitations and the full potential isn't realized. The cast are decent, and the plot is not too bad. However this is the type of film only worth watching once. Liam Neeson is the best actor here, and he really does make this film worth seeing. The film relies more on special effects this around to create its horror, but it lacks anything truly terrifying. The problem with films that rely on special effects, is that they become almost exclusively reliant on that to create tension, thus there is no need to truly build a harrowing, terrifying atmosphere. This film, like every other remake, lacks the power of the original film. There are some shocks to be had here and there, but for the most part, there's something missing to really make this a worthy remake. Overall, a fun but forgettable film, it has style, mediocre substance, but in the end it's enjoyable if you're looking for a horror flick that is more special effects oriented than atmosphere oriented; this is the film for you. The film ranges from decent to mediocre, never anything good or remarkable. This is the type of film that is meant for an audience that doesn't want old school traditional horror to their horror experience.
½
Didn't feel scared at all, even as a 10 year old when it was released. Poor effects and poor acting, FAIL.
Eric Alvarez
Super Reviewer
The Haunting Quotes
| | |
| --- | --- |
| Nell: | Welcome home Eleanor... |
| | |
| --- | --- |
| Luke: | It's not gonna hold your weight there! It's breaking apart! |
| | |
| --- | --- |
| Luke: | Do you think Dr.Marrow's up to something? |