The Hawk Is Dying
(2006)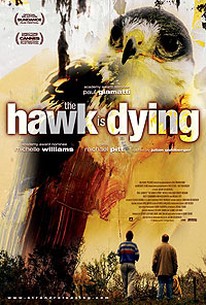 TOMATOMETER
AUDIENCE SCORE
Critic Consensus: Paul Giamatti lends his character some pathos, but The Hawk is Dying is otherwise too ambiguous and morose to be enjoyable.
Movie Info
A man channels his feelings through an obsession with wild birds in this independent drama based on a novel by Harry Crews. Fortysomething George Gattling (Paul Giamatti) is an emotionally stunted man who makes his living doing auto upholstery and lives with his sister, Precious (Rusty Schwimmer), and her autistic son, Fred (Michael Pitt). Though George has an on-and-off relationship with Betty (Michelle Williams), a constantly stoned young woman just edging out of her teens, one of the few ways in which his deeper feelings come to the surface is his interest in falcons. George loves to capture and train the birds, even if he isn't especially good at it and has lost nearly all the falcons he's tried to keep. When Fred dies in a drowning accident, his family is devastated, but George is incapable of expressing his grief. One day, George finds a striking red-tailed hawk, and he immediately becomes obsessed with the bird. As George struggles to keep the magnificent hawk in captivity and keep it safe while training it to obey his commands, he's finally able to connect with the sense of loss that has haunted him since Fred's passing. The Hawk Is Dying received its premiere at the 2006 Sundance Film Festival. ~ Mark Deming, Rovi
News & Interviews for The Hawk Is Dying
Critic Reviews for The Hawk Is Dying
Audience Reviews for The Hawk Is Dying
½
This was a good film, but I don't know if it was one I would recommend to everyone. It is kind of slow, and not the most thrilling of topics, I guess, with the main character being obssessed with training a hawk! However, the cast are all very good in this, particularly Paul Giamatti and Michelle Williams, and it does ring true. I have to confess I only watched it because Michael Pitt is in it, it is not exactly something that would have leapt of the shelf at me otherwise, and since he's only in it for about half an hour, and not exactly the most interesting role I ever saw him, (he is good, but he's kind of underwritten. Well I guess only so much you can do with an autistic character who barely speaks. Kind of wasted in that part, really), so that isn't a recommendation for other fans either! However, I actually was interested enough in the characters and story to watch the rest of it and see what happened, and I did find it worthwhile, although I can't imagine wanting to sit down and watch it again anytime soon.
Nicki Marie
Super Reviewer
[font=Century Gothic]In "The Hawk Is Dying," George Gattling(Paul Giamatti) owns a car detail establishment in Gainesville, Florida, lives with his sister Precious(Rusty Schwimmer) and trains hawks in his spare time but with little success to date. In each of his previous attempts, the hawk has died but coming upon a red tailed hawk with his mentally handicapped nephew Fred(Michael Pitt), he is willing to give it another shot. Despite his obsession, he attends a party with his sister, leaving Fred in the care of Betty(Michelle Williams), a psychology student from the local university...[/font] [font=Century Gothic][/font] [font=Century Gothic]"The Hawk Is Dying" is an oddly beguiling movie thanks primarily to another superb performance from Paul Giamatti who remains the most fearless actor around, showing that it is possible to act with a bird on his arm. He plays a character obsessed with accomplishing something in his empty life while being haunted by mortality, surrounded by intellectuals that he looks up to. However, this does not explain why George has not been beaten to a pulp by an angry mob of animal rights activists yet but it does explain why Betty is drawn to him since he is providing enough material for a master's thesis, doctoral dissertation and several textbooks. Regardless, George does require professional help.[/font]
Ahhhhhhhhhhhhhhhh! Thats what I thought after the first 30 min, the 2nd 30 min, and the last 30 min. I have more to do with my life then watch this, don't I? I guess not or I wouldn't have finished it. Save Me Somebody
Bruce Bruce
Super Reviewer
The Hawk Is Dying Quotes
There are no approved quotes yet for this movie.