The Heart Is Deceitful Above All Things
(2004)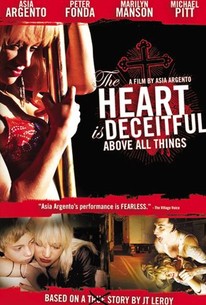 The Heart Is Deceitful Above All Things Photos
Movie Info
Seven-year-old Jeremiah lived a calm, comfortable life in the care of a loving foster home until the day his young mother Sarah came to take him back. Jeremiah is thrust against his will into his mother's reckless life of turmoil and depravity, bouncing between desolate truck-stops, flea bag motels, strip joints and drug dens. Deadbeat surrogate dads swoop in and out of Jeremiah's life until he finds himself in the custody of his ultra-religious grandparents. Soon after Jeremiah adapts to his new life as a Christian fundamentalist, Sarah returns to claim him. Back on the road and bound by a love only a mother and son could have for each other, Sarah pulls Jeremiah further and further into her dementia. When Sarah is finally and wholly consumed by drugs, prostitution and violence, Jeremiah is forced into a desperate struggle to survive the madness of his surroundings.
Critic Reviews for The Heart Is Deceitful Above All Things
Audience Reviews for The Heart Is Deceitful Above All Things
Asia Argento presents a bleak, disturbing and horrific film. Argento refuses to undermine the story by offering no final solution. The films main purpose is to make the audience feel very uncomfortable. Problems like child abuse are easy to put aside as coverage of real life events must always be handled with tact. Argento goes for a more direct approach. Argento and the boys all give sterling performances, and are aided by a never-ending stream of boyfriends from Manson-Renner. The Sprouse boys have certainly come along way and their performances are intune with each other. Wonderful, but not light, stuff.
Luke Baldock
Super Reviewer
This movie was excellent - extremely disturbing and certainly wouldn't be to everyone's taste. Jimmy Bennett is excellent as a little boy in foster care who's drugged up, hopeless, too awful for words mother comes back to claim him. What follows is so horrific that it came as quite a relief to do a bit more research and discover the "true story" was in fact a hoax, but all the same, sure there are plenty of people out there this type of crap does happen to, and this was so well done. It has a few cameo appearances in it by various people such as Michael Pitt, Winona Ryder and Marilyn Manson - none of them are in it for more than a few minutes, so not worth renting just to see any of those if you are a fan. I was impressed with Winona's appearance though, it was darkly funny and actually nearly didn't recognise her.
Nicki Marie
Super Reviewer
½
Really strange and awuflly true story of a poor innocent little boy's life turned hell while he spent with his drug-addicted hooker mother. I felt so sorry for a little boy. And actress-director-screenwriter Asia Argento who plays as a mother looks like a wild Courteney Love in this film.
Dean McKenna
Super Reviewer
The Heart Is Deceitful Above All Things Quotes
There are no approved quotes yet for this movie.