The Heart of Christmas
(2011)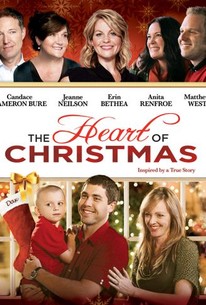 AUDIENCE SCORE
Critic Consensus: No consensus yet.
The Heart of Christmas Photos
Movie Info
The Lockes are devastated when they learn their young son, Dax, has cancer. But with courage, determination and faith, they give Dax a one last Christmas, even if it is in October.
Critic Reviews for The Heart of Christmas
There are no critic reviews yet for The Heart of Christmas. Keep checking Rotten Tomatoes for updates!
Audience Reviews for The Heart of Christmas
½
Given my somewhat casual relationship with television - I watch very little and care about even less - I have expended a lot of effort in my reviews to defend TV films. In my analyses of Conspiracy and Death of a Salesman, I've attempted to justify the medium as best as I can, arguing that some stories are more suited in scope to the small screen and that TV production values have come on in leaps and bound after decades of being cinema's poor relation. Put simply, there is little valid reason in this day and age for dismissing something purely because it came from television. The Heart of Christmas presents an interesting problem, because it is many ways a very typical TV film. It's unapologetically sentimental, it focuses around the triumph of the human spirit over adversity, its narrative scope is relatively small, and it isn't going to win any awards for its storytelling or visuals. A more jaded or grinchy viewer might remark that it is merely one of a hundred such Christmas films, designed only to fill up the schedules on the 24 hour film channels. But even if you go in with really low expectations, you may find yourself getting more out of it than you anticipated. That being said, there is one important caveat that needs to precede the remainder of this review. It is more than possible to enjoy The Heart of Christmas on its own terms, provided that you keep reminding yourself of how little resemblance it often bears to real life. It's not an utterly escapist vehicle, but those who have less patience or a colder heart may find themselves incapable of not ranting and raving at some of the character decisions. Those that remain should find the results surprisingly decent, even if they are only enjoying it in spite of themselves. If you were being super-critical, it wouldn't take long to find flaws with The Heart of Christmas. It's attempting to tackle an issue which affects a lot of families (childhood cancer) by portraying it in a way which has seemingly universal appeal. But most people in America aren't as well-off as the supposedly normal family at its centre, nor do the members of such families look that good when they receive bad news. The American healthcare system cannot always provide the highest quality care on a plate, and most would struggle to foot the bill if it could. If you were feeling particularly cynical, most of the characters are written far too sympathetically to come across as rounded human beings. Not every doctor has to be as flawed and tortured as those on House, but a little depth is always welcome. Part of the problem lies in the decision of director Gary Wheeler and screenwriter Lance W. Dreeson to tell the story somewhat vicariously. Instead of having the story handled directly from the Locke family's perspective, their experiences are relayed through the method of Megan Walsh reading their blog about it. While a human interest story told directly by the family would have been more conventional, it's difficult to see what this particular mode of storytelling brings to the table. One could argue that Wheeler is using the blog device to make a point about the way in which people connect to stories in the 21st century. We are so surrounded by instantly available information that it can be easy to lose sight of our fellow man, and the way in which technology has shaped our social patterns will inevitably impact on the kinds of stories we respond to, as well as the manner of said response. Certainly the film avoids the trap of having Megan use the Lockes' experience to excuse any change of heart because of the ultimate outcome (i.e. she ultimately doesn't change as a person because the child did not survive). But as Wes Anderson demonstrated on The Grand Budapest Hotel, sometimes nesting a story within multiple layers of narration does not always benefit either the tale or its teller. For all of this quibbling, the film does at least have one advantage over many Christmas films, namely that it is consistent in its tone. So many Christmas films spend their time missing the point about the festival - either neglecting the Christian heart of it or just blindly celebrating consumerism - and then attempt to put things right with a mawkishly sentimental final act. Where Elf shifted from soulless to sickening in its last 20 minutes, The Heart of Christmas knows from the get-go that it wants to be a tear-jerker and sees this intention through to the end. If you go into The Heart of Christmas expecting a groundbreaking human interest story or a deep philosophical insight into the human condition, you will come a cropper pretty quickly. While it feels far from calculating, its narrative unspools in a very recognisable, well-worn fashion, and even if the characters do seem realistic or believable, the actors are ultimately doing their best with archetypal parts rather than creating something new. That in itself is no bad thing, but when you put this against the likes of The Diving Bell and the Butterfly, it's very difficult to argue that this is first-rate material. One other point of interest lies in the direction outside of the storytelling. Wheeler has made no secret of his Christian faith, and is regarded in the United States as one of the most promising talents within the burgeoning Christian film industry. But if you hadn't heard of him before, you would have struggled to brand this a 'Christian' film in the generic sense. Wheeler's characters aren't exactly banner-waving secularists, but they don't force their spiritual views down our throats, and the film resists either forcing in a miraculous happy ending or abandoning modern medicine solely in favour of prayer or healing. The main reason for The Heart of Christmas being surprisingly decent is its honesty with the audience. While it doesn't knowingly brag about its lack of originality or celebrate the conventions that shaped it (for instance, in the way that Flash Gordon does), it keeps the families' emotional responses at the centre of the action and maintains a reasonable pace throughout. It neither drags out the sadder moments for effect nor rushes the action that punctuates them; it's just a decent story which is presented honestly and earnestly. The Heart of Christmas is a surprisingly decent TV film, nothing more and nothing less. It's not going to rush to the top of anyone's Christmas films lists any time soon, boasting very little that is groundbreaking or remarkable in its performance or visual presentation. But its consistent tone and honest, if peculiar, approach to a story which needed to be told is ultimately enough to win over an audience with an open mind. If nothing else, it's another reminder (as if we needed it) not to write off TV films.
Daniel Mumby
Super Reviewer
The Heart of Christmas Quotes
There are no approved quotes yet for this movie.