The Heart of Me
(2003)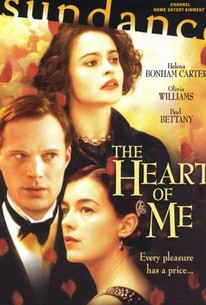 Movie Info
Upper crust England before, during, and after WWII provides the backdrop for THE HEART OF ME, a richly emotional drama about the seductive -- and destructive -- nature of passion. A classic romantic triangle, the film stars Helena Bonham Carter and Olivia Williams as sisters Dinah and Madeleine, and Paul Bettany as Rickie, Madeleine's husband, who finds himself drawn to his darkly beautiful, bohemian sister-in-law. Torn between two women, one who always plays by the rules and one who always breaks them, Rickie risks everything by falling into a clandestine affair with Dinah. What follows is more than a decade of deception, betrayal, and manipulation during which Rickie's carefully constructed world falls apart and he is all but destroyed by love. Over the years, the two sisters wage a fierce battle for his heart that exposes their vast differences as well as their surprising bonds.A sumptuously mounted vision of an all-but-vanished world, in which appearances and propriety govern every relationship, THE HEART OF ME is based on the 1953 best-seller, "The Echoing Grove," by noted novelist Rosamond Lehmann (and loosely based on her illicit affair with Poet Laureate, C. Day Lewis). Intricately structured as a progression of post-war flashbacks that gradually reveal a host of personal and societal conflicts, the film brings an unusual degree of sexual candor and dark psychology to a time and place normally thought of as "polite." The powerful performances of Bettany ("A Beautiful Mind", "A Knight's Tale") and Williams ("The Sixth Sense", "Rushmore") establish them as full-fledged romantic leads and, in her strongest role since her Oscar-nominated turn in "The Wings of the Dove," Bonham Carter once again shows she is unequalled in giving a modern face to period characters struggling with the boundaries of convention. -- © ThinkFilm
Critic Reviews for The Heart of Me
Audience Reviews for The Heart of Me
½
Great movie! Fantastic story plot. Amazing actors!
½
[font=Century Gothic][color=darkred]"The Heart of Me" starts in 1934 in a well-to-do household in London. Madeleine(Olivia Williams) is constantly worrying about the marriage prospects for her bohemian sister, Dinah(Helena Bonham Carter). Getting Dinah married has been a lot of trouble for Madeleine. Little does she suspect that the reason for this, is that Dinah is having an affair with Madeleine's husband, Rickie(Paul Bettany). The moral of the movie is that having an affair with your sister-in-law can be a lot of fun, until somebody gets pregnant. "The Heart of Me" is not that interesting with a good cast wasted playing types more than anythingelse. A flash forward to 1946 is awkward in giving away some of the story while cheating in other ways.[/color][/font]
The Heart of Me Quotes
There are no approved quotes yet for this movie.