The Helen Morgan Story
(1957)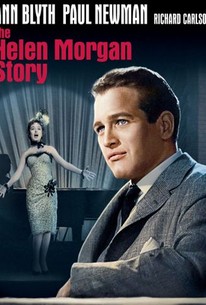 AUDIENCE SCORE
Critic Consensus: No consensus yet.
The Helen Morgan Story Photos
Movie Info
Ann Blyth plays famed "torch singer" Helen Morgan, from her humble beginnings as a carnival dancer to the height of her nightclub fame in the 1920s. Helen spends most of her spare time anguishing over the on-and-off affections of her boorish boyfriend (Paul Newman), who had discovered Helen during her carnival days and promoted her to stardom. By 1927, Helen is headlining in her own nightclub, with further fame and fortune greeting her when she is cast as Julie in the blockbusting Broadway hit Show Boat. But when she realizes that her erstwhile boyfriend has been using her as a "meal ticket", Helen turns to drink. Losing her fortune to Revenue agents and the Stock Market crash of 1929, Helen hits rock bottom, ending up in the Bellevue alcoholic ward. Her boyfriend suddenly has a change of heart and declares his love for Helen, arranging for a lavish testimonial in her honor, hosted by Walter Winchell. The film ends at this point, suggesting that Helen Morgan is on the road to lasting success and happiness (tragically not the case in real life). For reasons unknown, Ann Blyth, an excellent singer in her own right, was dubbed in The Helen Morgan Story by songstress Gogi Grant.
Critic Reviews for The Helen Morgan Story
Audience Reviews for The Helen Morgan Story
The biopic of a woman who, despite her connections with the wrong men and the tumult of the roaring twenties, rises to showbiz prominence. I don't know anything about the real Helen Morgan, so the comparisons between the film and actual events are lost on me. If there are inaccuracies, they should've elected to make the story more interesting. As it is, the rise to fame is rather basic, and the film's chronicle of Morgan's rise is uneven. As a film, the story is interrupted by musical numbers that only occasionally reflect the action that we're supposed to be most concerned with. Also, Ann Blyth and Paul Newman have almost no chemistry, which is odd considering the fact that Newman made a career out of leveraging his irresistible charm. When Newman's character says that he's "stuck on her" and when Morgan sings love songs in his general direction, I can't understand why or what motivated their romance. Overall, if you like the music of the roaring twenties, those beginnings of jazz, then you'll love the soundtrack, but try to ignore the attempts at a story interrupting the songs.
Jim Hunter
Super Reviewer
½
Mostly fictional biographical hogwash of hard luck dame Morgan. Ann Blyth was the wrong actress for the title role, many were considered she was probably the least suitable, so the film starts off with a major flaw from the get go. Another shortcoming is that although Blyth was a singer whose voice was relatively close to the real Helen Morgan's she is dubbed by Gogi Grant, also a fine singer but completely different from Morgan in sound and technique. If they were going to dub her why not use Helen Morgan's voice? The real Morgan story is a compelling one so this comes off as a wasted oppurtunity.
The Helen Morgan Story Quotes
There are no approved quotes yet for this movie.