The Help
(2011)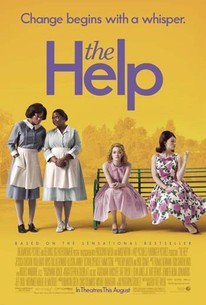 TOMATOMETER
AUDIENCE SCORE
Critic Consensus: Though it fails to fully engage with its racial themes, The Help rises on the strength of its cast -- particularly Viola Davis, whose performance is powerful enough to carry the film on its own.
Movie Info
The Help stars Emma Stone as Skeeter, Viola Davis as Aibileen and Octavia Spencer as Minny-three very different, extraordinary women in Mississippi during the 1960s, who build an unlikely friendship around a secret writing project that breaks societal rules and puts them all at risk. From their improbable alliance a remarkable sisterhood emerges, instilling all of them with the courage to transcend the lines that define them, and the realization that sometimes those lines are made to be crossed-even if it means bringing everyone in town face-to-face with the changing times. -- (C) DreamWorks
News & Interviews for The Help
Critic Reviews for The Help
Audience Reviews for The Help
Although Viola Davis offers a fantastic performance here, this disgusting melodrama is much more concerned about making you cry than saying anything meaningful, while most of the characters are one-dimensional and several unnecessary details are constantly added to the story with the sole purpose of cheap sentimentality.
Carlos Magalhães
Super Reviewer
½
There's nothing particularly wrong with "The Help". Well acted, briskly shot with a story that is simply told without much complexity. But for a film that tries to be important it isn't orchestrated substantively enough to be as raw and hard-hitting that a film about this subject matter should be. But it's still a film worth watching as "The Help" has some impressive points that make it a film to be appreciated. Based on Kathryn Stockett's best selling novel of the same name, "The Help" tells the story of a young white woman, Eugenia "Skeeter" Phelan (played by Emma Stone), and her decision to write a controversial book from the point of view of the help (the maids). She convinces two maids Aibileen Clark (Viola Davis) and Minny Jackson (Octavia Spencer) to tell their stories exposing the casual racism they face on a daily basis from their white families. The performances are strong. Viola Davis anchors a cast with power and she's a key reason why "The Help" works. She plays Aibileen Clark with an air of dignity, compassion and strength that is a sight to behold. She could have easily taken the character into caricature mode (the kindly old maid) but she doesn't - and for that reason Davis is earning some well-deserved kudos and strong Oscar buzz. She is surrounded by some nice revelations as well. Octavia Spencer gets the role of her life as outspoken Minny Jackson. Like Davis, she walks the fine line between caricature and realism and pulls it off. Spencer's role is a particularly tough one as the "sassy" role has been done to death, but her portrayal is spot on and believable. Jessica Chastain is having a career year and her role here like Davis' and Spencer's is also borderline cartoon and she also nails it. These three standout performances elevate "The Help" from average status. The rest of the film's performance don't walk that fine line quite as well. While it's hard to find fault with Emma Stone's solid performance, you can't say the same of Bryce Dallas Howard who starts off fine but then turns her character into Cruella DeVil. Her villainy is so outrageous at times (she puts her Mom in a home for laughing at her) that by the time she gets her, not surprising, comeuppance it doesn't ring true. "The Help" in its attempt to be palatable to all audience glosses over a lot of the real serious themes the film is about. The racism is given the Hollywood treatment so the full impact of what the Help went through doesn't make the audience feel too uncomfortable. At least the film doesn't entirely pander to the audience (like the atrocious "Crash" did). "The Help" is a smartly constructed, watchable film that has lots of great moments, but at the end doesn't leave much of an impact regarding the subject matter.
Tony Gandía
Super Reviewer
Well-intended but somewhat simplistic in its depiction of the problem. It doesn't exactly help that the performances vary from excellent to overacting. Entertaining enough but hardly doing justice to the topic.
The Help Quotes
| | |
| --- | --- |
| Mr. Blackly: | Shut the goddamn door! |
| | |
| --- | --- |
| Hilly Holbrook: | They carry different diseases than we do. That's why I've drafted the Home Health Sanitation Initiative. |
| Skeeter Phelan: | That what? |
| Hilly Holbrook: | A disease-preventative bill that requires every white home to have a separate bathroom for the colored help. It's been endorsed by the White Citizen's Council. |
| Skeeter Phelan: | Maybe we should just build you a bathroom outside, Hilly. |
| | |
| --- | --- |
| Hilly Holbrook: | I said *coats*, not *commodes*! |
| | |
| --- | --- |
| Charlotte Phelan: | You know, Hilly, if I didn't know any better, I'd say that you've been eatin' too much *pie*. |