The Hitcher
(1986)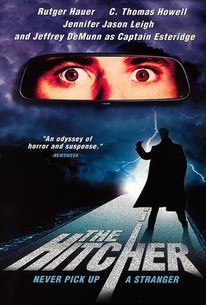 TOMATOMETER
AUDIENCE SCORE
Critic Consensus: Its journey is never quite as revelatory as it could be, but The Hitcher stands as a white-knuckle vision of horror, bolstered by Rutger Hauer's menacing performance.
Movie Info
This routine slasher film is greatly enhanced by the ethereal quality of its evocative cinematography and a haunting score that foretells pending doom. Otherwise, the pendulum swings between car crashes and slasher killings all the way through until the predictable end. Jim Halsey (C. Thomas Howell) stops to pick up serial murderer John Ryder (Rutger Hauer) on a long haul through Texas while driving a Cadillac to its destination. Before he gets the car back up to 65 again, Jim realizes he has a wacko for a passenger and throws him out. Revenge is in store as the crazed Ryder starts killing off anyone Jim meets along his way. Desperate for help, Jim's flight from the killer becomes a flight from the police as well, since they think he is responsible for the trail of deaths that follow in his wake.
Critic Reviews for The Hitcher
Audience Reviews for The Hitcher
MisterYoda ?
Super Reviewer
In 'Halloween', Michael Myers was simply credited as The Shape because the viewers would project their own ideas of horror onto his amorphous face. In many respects, John Ryder is similar to Myers insofar as he is an oppressive, omnipresent villain without a motive. He appears spontaneously (one example of hysterically irrational gallows humor is his materialization in the back of a family's station wagon) and he could be construed as the personification of Jim's coming-of-age obstacles on the road to manhood. 'The Hitcher' is a taut, exquisitely surreal B-movie with a powerhouse performance from Hauer. At first, Hauer is bedraggled from the rain, sniffling with a cold and intentionally vague about his destination. He unveils his switchblade and almost pleads to Jim "I want you to stop me". Their relationship is like the symbiotic link between the host and a virus with each one goading the other. Every time they rendezvous, Ryder provokes Jim to shoot him but Jim is too sheepish and cowardly. At an abandoned garage, Ryder could easily disembowel Jim but instead he throws him his keys as if to enable Jim to continue the cat-and-mouse pursuit. Hauer is fraught with ambiguous touches such as when he lays next to Nash and slightly whimpers before he cuddles with her. 'The Hitcher' has been enshrined as an unsung gem in 80's horror and based on the evidence, deservedly so.
Cory Taylor
Super Reviewer
Jennifer Jason Lee is the actress I dislike the most. No wait, that would be Reese Witherspoon. Rutger Hauer is cool but he's wasted in this lame thriller. Slight upside: Jennifer Jason Lee gets torn in half. Hmmm, maybe there's a movie where Reese Witherspoon gets ripped in half...
Bob Stinson
Super Reviewer
The Hitcher Quotes
| | |
| --- | --- |
| Jim Halsey: | What do you want? |
| John Ryder: | I want you to stop me. |
| | |
| --- | --- |
| John Ryder: | Gas stations have cigarettes. |
| Jim Halsey: | What about gas? |
| John Ryder: | I don't need gas. |
| Jim Halsey: | What do you want? ...What's so funny? |
| Jim Halsey: | What do you want? What's so funny? |